Petitions to recall three City council members and mayor being signed
Wayne City Councilman Christopher Sanders, Councilman Ryan Gabriel, Mayor Pro-Tem Anthony Miller and Mayor Susan Rowe had recall petitions taken out against them. Resident Bob Boertje presented the recall petitions at the October 3 City Council meeting. The petitions were based on the above individuals vote on October 18, 2016 to extend their own city council terms by one year.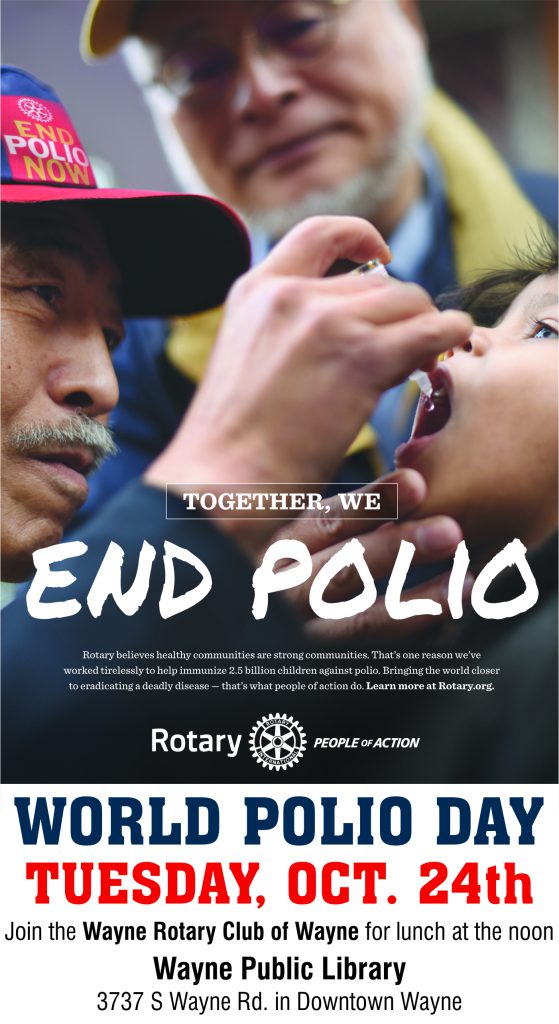 Lunch and learn
October 24th is World Polio Day. Rotary International and the Bill and Melinda Gates Foundation are working together to end polio in the world. Each rotary club does an event to educate others about this disease. The Wayne Rotary will be having a lunch and presentation at the Wayne Public Library on Tuesday, October 24. The event is at noon, is free and is open to the public. Bob McClellan, a polio survivor and Wayne Rotarian, will be the speaker. He contracted polio when he was 2 years old.
Senior services announcements:
*There was a change in the phone system at HYPE which affects the way you reach the Wayne Senior Services Office. Even though the phone number has not changed, the way in which it is answered has. When you call Wayne Senior Services at 734-721-7460, you will reach HYPE's automated announcement; enter extension 7 and your call is transferred to the Wayne Senior Services Office.
* Sometimes Travelers trips:
Start saving now! Coming in March 2018 will be an extended trip: 15 days and 14 nights in Clearwater Beach, Florida. This trip will feature Tigers Spring Training. Deposit holds your spot. Payments can be made.
All trip flyers are available at the HYPE recreation center in the area designated Wayne Senior Services.
HYPE up for Halloween
Get ready for a Spooktacular family fun event Friday, October 27, at Attwood Park. The 2nd annual HYPE Up for Halloween will be 6:00 p.m.-9:00 p.m. There will be a special time of 5:00 p.m.-6:00 p.m. for disabled children to trick or treat.
Wayne Historical Society upcoming events
The final "Made in Wayne Transportation Series" talk will discuss Bendix aviation, Gar-Wood and the Lincoln/Mercury/Ford plant in Wayne. Program will be Thursday, October 12, at 7:00 p.m. in the Wayne Historical Museum. Light refreshments will be served.
First annual chili cook-off
The first annual chili cook-off will be held at HYPE Recreation Center on October 21 from 4-7:00 p.m. Do you make a great batch of chili and/or cornbread? If so, plan to enter this contest. It is $10 to enter in either the Chili Only or the Chili and Cornbread category. It is $5 to enter in the Cornbread Only category. Organizers are hoping to have 50 community members bring their best chili to be judged. Awards planned to be given are for best overall, people's choice, most creative ingredients, best veggie/vegan, best wild game chili and best fire house chili. Individual tickets will be $3 or $12 per family. Each participating chili cooker will have sample bowls at their station that attendees will be able to eat. 16 different fire houses from surrounding cities were invited to compete for the best firehouse chili. For more information or to enter, contact Lenny or Christi Powell at (734) 502-5603.
City of Wayne job opportunities
Maintenance Specialist-Part Time
The City of Wayne is currently accepting applications for the purpose of establishing a Maintenance Specialist-Part Time eligibility list. This is a part time position with the salary range $13.25-$14.39 per hour up to 28 hours per week. This position is responsible for general building and minor automotive maintenance within the Police Department. Applicants must possess a valid State of Michigan operator's license with no more than three (3) points on current driving record and must pass a comprehensive background investigation. Applications are available at the Personnel Department and the City of Wayne website. Completed applications must be received in the Personnel Department. The City of Wayne is an Equal Opportunity Employer and does not discriminate on the basis of race, color, national origin, sex, religion, age or disability in employment or the provision of services.
Crossing Guard
Starting Pay Rate: $9.28/hour. This position works only during the school year, late August through June. Must be 18 years or older.
Substitute Crossing Guard
Starting Pay Rate: $9.28/hour. This position works only during the school year, late August through June. Must be 18 years or older
Identity theft
The Michigan Department of Attorney General will be presenting a program on Identity Theft on Wednesday, December 6, at 11:00 a.m. The program is hosted by the City of Wayne Senior Services and will be held at HYPE Recreation Center, 4635 Howe Rd. Learn the signs of identity theft and fraud, how to protect your personal information online and off, and what to do if you become an identity theft victim. To pre-register or for more information, call 721-7460 x7.
Historic Wayne theaters
Join the Wayne Historical Society for a presentation on Wayne's historic theaters, including the Palace Opera House, Alsieum Theater, Old Wayne Theater, the Drive-in and the State Wayne. Presentation starts at 7:00 p.m. on Thursday, November 9 at the Wayne Historical Museum. Light refreshments will be served.
Who should you trust?
The State Bar of Michigan will be offering a free program titled "Who should You Trust? Avoiding Estate Planning Mistakes." This informal seminar will offer important information for seniors by Michigan-licensed lawyers. The seminar will be approximately one hour. There will be a question and answer period. Attendees will also receive a free specially designed folder containing essential estate planning information, forms and other materials for effective estate planning. Information will also include how to avoid estate planning mistakes and annuity insurance scams. This program is hosted by the Wayne Senior Services office.
No registration is required, but it is preferred. Presentation will be at the HYPE Recreation Center, 4635 Howe Road. on Wednesday, October 11, at 1:00 p.m. To register or for further information, please call Nancy at Wayne Senior Services, 734-721-7460 x7.
Community clean-ups!
Are you or your organization interested in doing an organized clean-up? If so, the City of Wayne is delighted to receive the help. They only ask that you contact the Department of Public Works Assistant Director Ed Queen at 734-721-8600 so that he can coordinate with you on the pick-up of any litter or debris that was collected and assure it is discarded in a timely fashion. Thank you for stepping up to help keep our city clean.
Together, we are better!
Free fall fitness classes
During October, everyone is invited to attend fall fitness classes being held in Derby's Alley, 35005 W. Michigan Ave (the space next to G. I. Surplus.)
*Cardio Drumming with Erin Moore and Kelli Barker will be Tuesday mornings at 10:00 a.m. Classes will be held on October 10, 17, 24 and 31.
*Soft Tae Kwon Do (Tai Chi Style) with KICKS Tae Kwon Do will be Thursday mornings at 10:00 a.m. Classes will be held on October 5, 12, 19 and 26.
Classes are free. RSVP is requested to either (734) 629-6822 or www.downtownwayne.org/derbysalley. Refreshments will be provided.