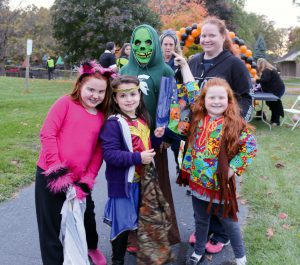 By Carolyn Marnon – Last year, approximately 1750 children lined up to trick or treat at the 1st Annual HYPE Up for Halloween Walk in Wayne. According to Brian Haddad, Facility Manager, "We did not expect the turn out that we had last year. Although we were very excited with the attendance, my staff and I were very overwhelmed with the amount of people. This year we have a better expectation of the event and we plan on having food trucks for the people that are waiting in line so they are able to go and grab some food while they wait."
On October 27, HYPE Recreation Center will be holding their 2nd annual event and are planning for a much bigger crowd. The event is a safe environment for kids and families to come trick-or-treat. New this year will be an added hour before the event for children 3 and under and children with disabilities to trick or treat. This will occur from 5:00 p.m.-6:00 p.m.
At 6:00 p.m., the regular trick or treating will begin. Radio Station 93.1 NASH will be doing a live broadcast from the event. "The radio station was Lenny Powell's idea and he ran with it," said Brian. "He contacted many different stations throughout metro Detroit, and 93.1 was the first to respond. Lenny has been a HUGE supporter of HYPE since we took over back in 2015. He has helped HYPE market and promote many different events in the community. Lenny has also helped get vendor tables for these events as well. Without the help from Lenny in all aspects, our events would not be well attended like they are now."
Lenny says he took into account that a lot of people would just be getting off work. They wanted to help people waiting in line by bringing in food trucks. He says they will have the awesome BBQ truck, Smokey Rhodes BBQ, that was at the concerts in the park a few months ago. Hard ice cream, shaved ice and Heavenly Hot Dogs with freshly squeezed lemonade are also scheduled to be there. "We want to thank all our corporate sponsors such as Mark Chevrolet, Fresh Choice Grocery store and Meijer of Westland. We would not be able to do this event without all the community businesses and all the corporate sponsors. Thank you!"
There are drop boxes around the city for donations of unopened bags of candy to be used during the walk. These locations include HYPE (Annapolis/Howe Rd), Henry's Service Center (Wayne Rd), Happy's Pizza (Vanborn/Howe), Jouli's Coney Island (Wayne Rd), Metro PCS (Glenwood/Wayne) and AKA Sports (Michigan Ave).
The event will end at 9:00 p.m.
If you would like to help out with the event or reserve a table for the event, email Brian Haddad at HYPE bhaddad@hypeathletics.org.
Other Halloween events in the Wayne area
October 21: The Wayne Historical Museum is hosting a Ghost Hunting event. The event is currently sold out.
October 28: A family-friendly Halloween party will be at the Wayne Historical Museum 2:00-4:00 p.m. Sponsored by the Wayne Historical Society and the First Congregational Church, there will be crafts, games, costume contests for both adults and children and a parade around the block at 3:30 p.m. to end the festivities. There will be a charge of $2 per family. All money raised will be used for improvements at the museum. Minors must be accompanied by an adult. The museum is located at 1 Towne Square in Wayne.