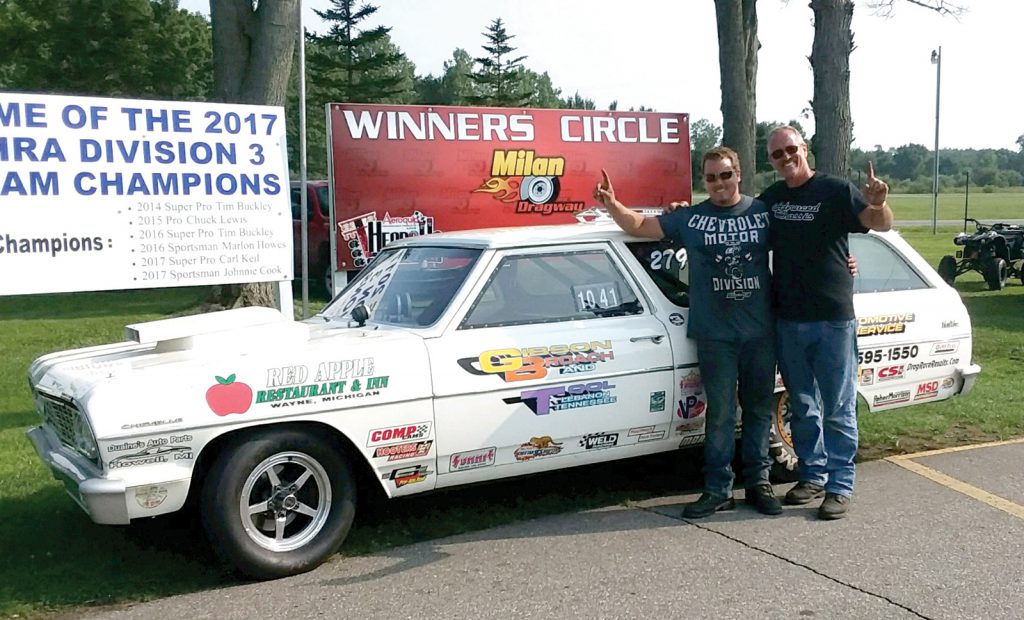 By Carolyn Marnon – After over 30 years of drag racing within members of the Kull family, Wayne resident Steven Kull is the first in the family to win a championship.
Steven Kull was recently named Pro-class champion at Milan Dragway for the 2018 race season. He said there are 12 races over the summer season and each driver earns 10 points for every round won. Two drivers race their cars against each other at a time. The winner gets the points while the loser is eliminated. The rounds continue until one winner remains. With this system, it is possible to never win a race during the season and still become the season champion. It's all about getting those points each round. Steven ended the season with 273 points, having won 27 rounds and picking up 3 extra points for coming in 2nd place during one race. Winning a race would have earned an extra 4 points.
What makes Steven stand out in the field of racers at Milan? It would be his white 1964 Malibu Station wagon. Yes, you read that right-a station wagon. Steven drag races with that old family favorite. You or someone you know probably remembers sitting in the back seat facing the drivers coming up behind you and waving. Steven is taking that waving in a whole new direction as his wagon waves that dust back at his opponent.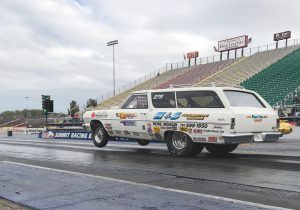 Steven is now heading to Indianapolis later this month for the Division 3 NHRA (National Hot Rod Association) Bracket Finals where he will compete against the top 10 racers from 17 other Division 3 tracks in the region. He also gets to participate in the Race of Champions against the pro champions from the other tracks.
Now just where did that station wagon come from? In the late 1980s, Steven's father, Ray Kull, who owns and operates K & S Auto on Wayne Rd., and Ray's brother, Jim, went to a house in Dearborn Heights to buy tires for a mud bog truck. The station wagon was sitting in the house's backyard.
A year later, Ray and Jim were sitting around when Jim pondered whether that guy in Dearborn still had that station wagon sitting in his backyard. They called; he did; they bought. And thus was born a unique drag racer.
Unless they wanted to hobble along with the1990s minivans of the world, the station wagon did need a few adjustments—new engine, new transmission and slick tires. A slick tire is a tire with a smooth tread used in auto racing.
Ray was the original drag racer in this car, followed by Jim Kull, and now Steven. Steven's cousin, Josh, has raced a couple times in the car, but he now has his own car to race.
Steven started going to the track with his family when he was about 5 years old. He began racing when he was 8 in junior dragsters. Junior dragsters are ages 8-14 and race what looks like a go-cart. Once a driver gets a driver's license, he/she can race cars. Steven says he tried playing baseball but that didn't work out
Steven's fiancée, Felecia Morin, and his soon to be 3-year old son, Hunter, cheer him on. In his free time, he enjoys boating. And no, there is no boat-racing on the horizon.
The speed and excitement of racing are what drag Steven into the sport. His car can travel from the starting line to the finish line in 9.69 seconds at 136 mph.
If he wins in Indianapolis, he will be able to go on to the national racing championships in Pomona, California in October. He would have to beat approximately 180 other cars to get there.
What is Steven's goal in racing? "To win at Indy," says Ray. Steven adds, "That's the big deal, to win at Indy. To go to nationals and then you have a chance to become a world champion."
For 20 years or so, K & S Auto, Red Apple (Wayne) and Gibson, Broach & Tool (Westland) have sponsored Steven's car. It's quite fitting that Ray is wearing a t-shirt emblazoned with "We believe in heroes." Certainly, Steven is his hero.