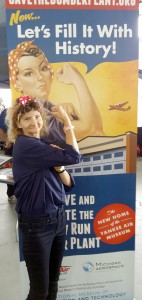 By Carolyn Marnon – 1,084.  That was the number to beat, set by a group in Richmond, California on August 15 of this year, to take back the Guinness World Record title for largest gathering of Rosie the Riveters.  The Willow Run Bomber Plant surpassed that number with 2,096 Rosie's on October 24th.
They came from all over Michigan to be part of this moment.  16 states and Canada were represented.  There were 44 "real Rosies" from the World War II era that were also part of the festivities.
Rosie the Riveter became the iconic image associated with recruiting female workers for the munitions industry during World War II. The bandana clad Rosie was a fictitious character based on a real-life munitions worker. The Rosie the Riveter government campaign stressed the patriotic need for women to enter the work force. With men away at war, manufacturers and the government were desperate for workers.  These women proved that women could do men's jobs and do it well.  At Willow Run, women were paid 75 cents an hour, the same as men.  This was considered good pay at that time. After the war, many women left the factories to focus on raising their families or to do more traditional "women's" jobs, but there were also many who stayed within the industrial workforce.
Wayne resident Brenda Ozog says she first felt a call in March 2014 to help save the historic Willow Run bomber plant. She joined 776 other women for the first Guinness World Record attempt at that time.  "We made it happen," she says.  After the event, she called her grandfather, John Sheneman, to talk about the event.  She learned that her great grandfather was a veteran of World War I and would travel from Topinabee, MI to work with the women at the bomber plant. In 1942, a call went out for all able bodied men to come work at the plants, so her grandfather worked at the Box Plant where they put engines on the skids for the airplane engines.
Brenda never got to meet her great grandfather.  Her mother eventually gave her his wallet to scan the photos he carried in his wallet.  Brenda discovered his Bomber Union Card and has since learned from the Yankee Air Museum that they have not yet acquired one for their museum and would be interested in it if she ever decides to donate it.
When Richmond beat Willow Run's record in August, Brenda felt that with her new-found family connection, she had a mission to help save the bomber plant.
When she arrived at the record-breaking event, she had a copy of her great grandfather's Bomber Union card pinned to her shirt.  "It was an amazing experience and it made me proud to know I had someone here back then.  I hope my grandfather was looking down at me with satisfaction and knowing I was proud of him and his efforts in World War II.  My mother, grandfather and I purchased a brick in his honor for the WWII monument in Royal Oak saying John Sheneman, Topinabee, MI Ypsi Bomber Plant."
Trying to get the word out around Wayne before the event was resident Robert Webb. He even created a Rosie scarecrow for Wayne Main Street's scarecrow display downtown.  Robert's 95 year old mother is a WWII Rosie from the Willow Run Bomber Assembly Plant.  She was a riveter, rivet inspector and a rivet gun trainer during the time they were building the big bombers.  She started at the beginning of production and stayed until the last B-24 left Willow Run.
Robert and his mother are both members of the A.R.R.A (American Rosie the Riveter Association).  They volunteer to help save the bomber plant.  His mom's great granddaughters won 3rd place in the Wayne/Westland Memorial Day Parade in May for their "Willow Run Rose Buds" wagon float they pulled in the parade. A Rosie descendant is called a Rose Bud.
While at a USO dance a few years ago, long before the Yankee Air Museum was trying to save the Willow Run hangars, Robert's mom was talking to a lady who told her they were planning on tearing down Willow Run.  "I remember mom saying to me 'There's too much history behind those walls to let them tear it down.' Since then, we've worked on trying to save some of it…and so far they have saved a small section of it, for the new museum."
There were several improvements at this recent event that were not available at the March 2014 event.  Several food trucks were kept busy feeding hungry Rosies.  There was occasional entertainment to break up the stretch of time from when the registration tables opened at 10am until the official Rosie gathering at 2pm.
There was an area for children to color or read stories about Rosie the Riveter.  For $195 and up, you could take a ride in a bi-plane.  There was a long lineup of silent auction items to bid on.  Sales were brisk at the museum table-the We Can Do It totebags sold out quickly. Other items available included books about the plant and about Rosies, playing cards, die-cast planes, and decals.  The WWII Rosies had a special area where they could relax before the official count.
My mother-in-law, Alicia Marnon, (a Wayne resident) and I attended the event.  We wore our official Rosie costumes, adhering to the strict guidelines set by Guinness.  A Rosie had to wear either dark blue workers coveralls with long sleeves or a long-sleeved dark blue collared shirt and dark blue pants or very dark blue jeans, black or dark brown low heel work boots or work shoes, red knee-socks with pants rolled up to show them, and a red with large white polka dots bandanna tied at the top of the head. As we entered, we were given a schedule of events and asked to choose a tag representing a real Rosie from the past that we could wear around our necks.For a $5 donation, Rosies could tour the Boeing B17G "Yankee Lady".  This plane had a walkway in the middle of it that was very narrow.  You stood on it and looked down to see the open sky below. One would hope the crewmembers were wearing parachutes in case they suffered a misstep.
When the time came, the Rosies were called to start lining up to go through the turnstiles into the staging area. Men volunteers were holding signs that displayed increments of 50: 1-50, 51-100, etc. All the way up to 2000.  The Rosies were counted as they entered and assigned to a "sign". Chants of "Rosie, Rosie" were led several times. When the last Rosies were counted, the original WWII Rosies were brought into the area and seated at the front.  To be considered for the world record, the Rosies had to stand together for 5 minutes.  During that time, they recited The Pledge of Allegiance and sang the National Anthem, Amazing Grace and America the Beautiful.
It was announced that the world record was"unofficially" 2,096.  Cheers went up from the crowd. The big doors to the hangar which was the staging area rose up and the Rosies spilled out into the cool fall air.  Laughter was heard as the crowd started to disperse.  What a record-setting day!