By Carolyn Marnon –
Deuling Piano Party-
Get into the pre-St. Patrick's Day mood by attending St. Paddy's Dueling Piano Party on Friday, March 11.  The event is presented by the Wayne Rotary Club with proceeds benefitting Wayne Rotary Club scholarships.  The musical repertoire will range from classic rock to country, hard rock to R & B, oldies and show tunes to the newest Top 40 hits.  The audience is the star of the show-sending up requests, singing along, bantering with performers and just having a good time. Doors open at 6:30 p.m. with the show starting at 7:30 p.m. There will be a cash bar, food available for purchase, 50/50 raffles and fun!  Tickets are $20 each (or $180 for a table of ten) and can be purchased at Henry's Service Center, The Wayne Public Library and HYPE Recreation Center. The event will be held at HYPE Recreation Center, 4635 Howe Rd.  Buy your tickets now before they sell out and support Wayne Rotary Club!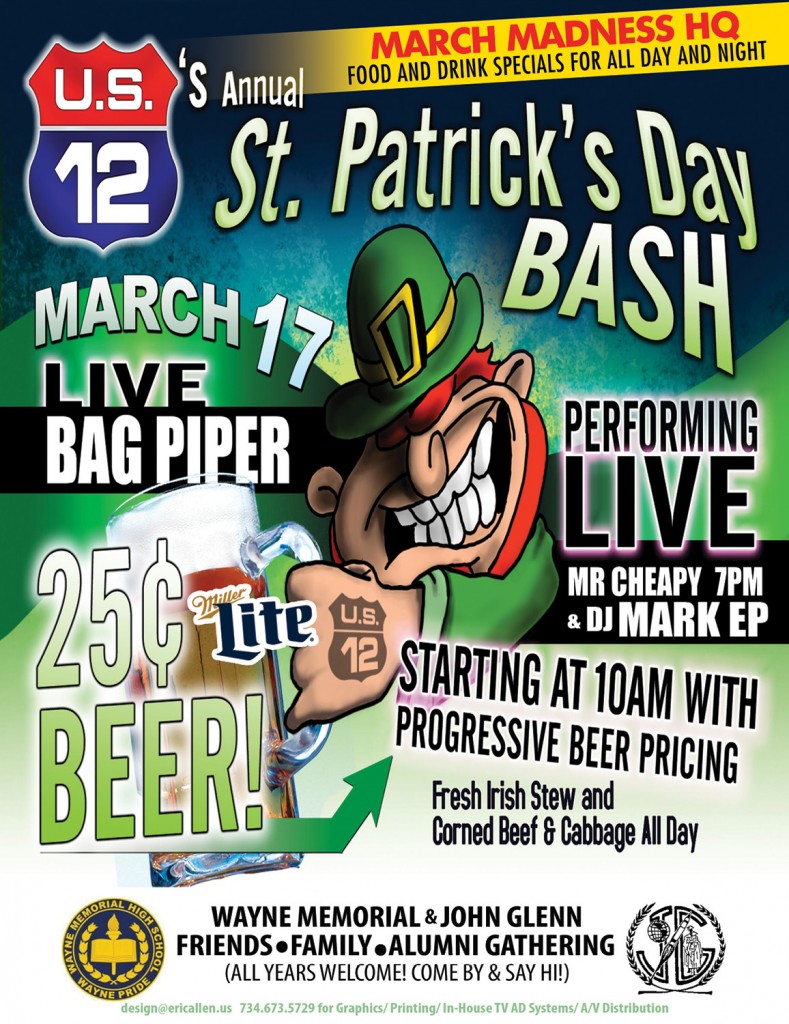 -Come out anytime from 9:30 a.m. – 2:30 a.m. on St. Patrick's Day, March 17, and enjoy the fun at The Avenue.  There will be prizes, Irish festivities, a DJ, outdoor live music, food and drink, and of course, green beer.  89XRadio, Detroit's New  Rock Alternative, will be there with Cal Cagno (host of Cal & Co. Mornings) from 5:00 p.m. – 7:00 p.m. You could pick up a free official Cal & Co. limited edition 89X St. Paddy's t-shirt while you're there along with other 89X swag.  No cover charge.
3632 Elizabeth St.
US 12 Bar and Grill-Enjoy live entertainment all day along with beer that will start at 25 cents at the beginning of the day and progressively increase as the day goes on.  There will be authentic Irish food available including corned beef, Irish stew, shepherd's pie and corned beef reubens. Live Band Mr Cheapy, Dj Mark EP, Bag Piper. And lots of free giveaways from Jamison Guinness Miller light and Bud and no cover.
34824 W. Michigan Ave.