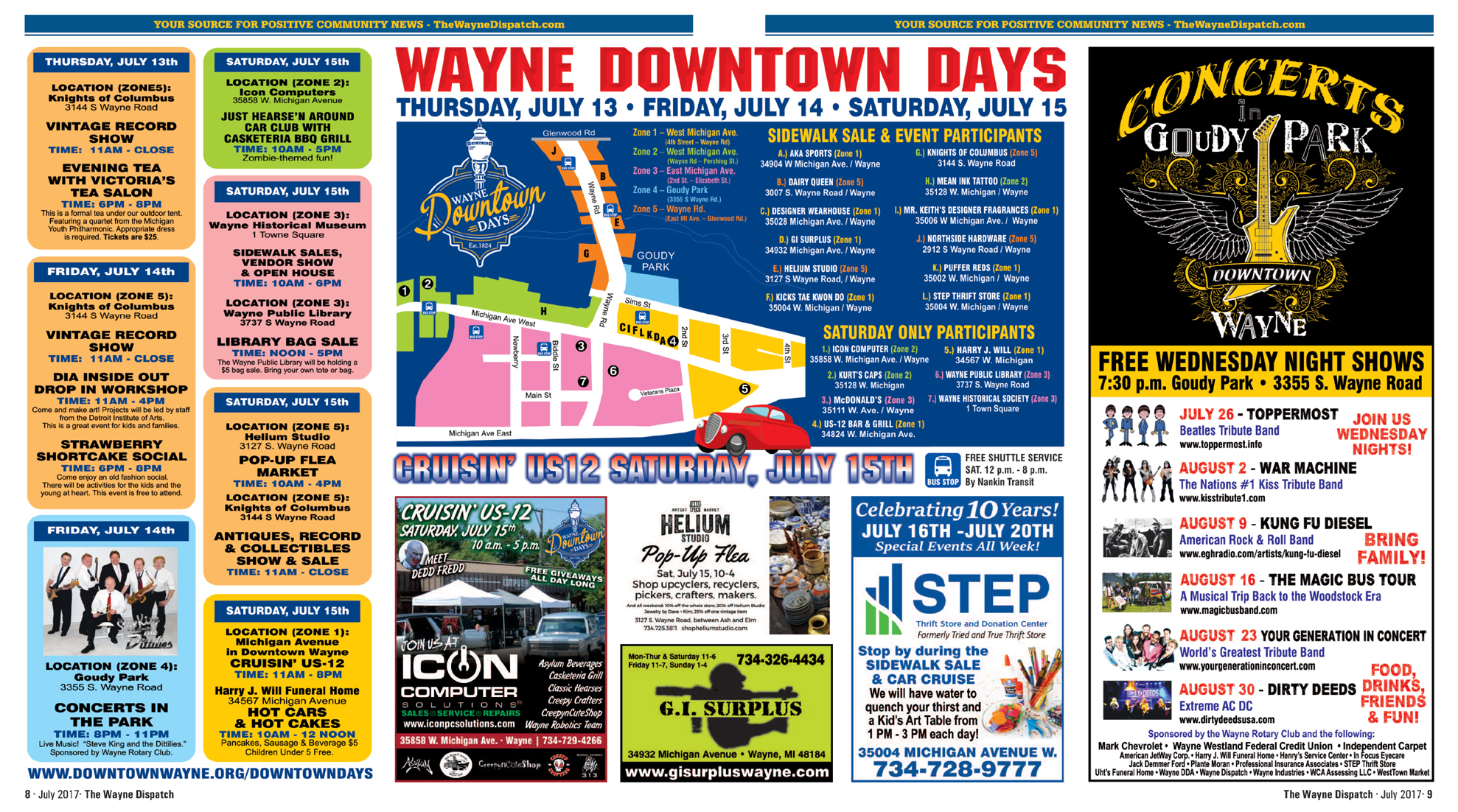 By Carolyn Marnon – What was once known as Sidewalk Sales during July has taken on a new name. Downtown Days have emerged to be more inclusive of other activities that can take place during this annual event in Downtown Wayne. Downtown Days will be held Thursday, July 13-Saturday, July 15.
Here are just some of the events/sales to look out for. Come out and support Wayne's small business owners and enjoy the many activities that have been planned for the community to enjoy.
Wayne Public Library
The library will be holding a Totebag Book Sale on Saturday, July 15, from noon until 5:00 p.m. Bring a totebag of your own or purchase one at the library. Fill it with books from the library's sale shelves for just $5.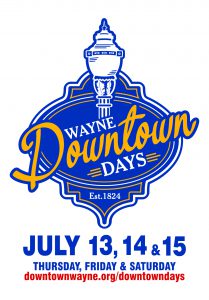 Northside Hardware Store
On Friday, July 14, and Saturday, July 15, join 104.3 WOMC-Detroit's Greatest Hits-as they broadcast live from Northside.
As always, Northside will be hosting their annual hot dog and pop sale. Get a hot dog and a pop for just 25 cents!
Dairy Queen
Stop at Dairy Queen for ice cream. On Thursday, July 13, buy one sundae, get a second sundae for $1. On Friday, July 14, buy one Peanut Buster Parfait, get a second Peanut Buster Parfait for $1. Add any size Arctic Rush or soda to any order for only $1.
Helium Studio
Helium Studio will be offering sales and promotions throughout the weekend. Shop their selection of great local and Michigan-based artists.
Saturday, Helium will be reprising their Pop-Up Flea Market behind Helium Studio. Spaces are still available. Pickers, upcyclers, recyclers, artists, makers, crafters are all invited to participate. Contact Helium Studio for an application: shopheliumstudio@gmail.com or 734-725-3811. The Flea Market is 10:00 a.m.-4:00 p.m.
Kicks Tae Kwon Do and Fitness Center
Kicks will be hosting an open house, including free self-defense classes and Tae Dwon Do demonstrations all weekend.
Kurt's Caps
Kurt's Caps will be providing free popcorn at their store to patrons and cruise-goers during the cruise.
Mean Ink Tattoo
Sick Sense apparel will be 30-50% off. Gift certificate specials will also be available with Mean Ink Artist Dan – $75= $100, $150= $250, $300=450. Bigg Tone is also offering a certificate special $200= $300!
Puffer Red's
Puffer Red's will have great and unique apparel available.
STEP Thrift Store
Come celebrate STEP's 10th anniversary by shopping great finds and deals. Additionally, STEP will be offering free bottled water. On Saturday, July 15, STEP will host a tent on W. Michigan Ave. with seating for cruise-goers! Handicap accessible bathrooms and changing stations are available at this location.
Knights of Columbus
Much is happening with the Knights of Columbus. They are holding a raffle for an IT Silver Strike Bowling Arcade game, Core gasless trimmer, Bissell Powerlifter carpet cleaner and The Juiceman Professional Series 410 juicer. Tickets are $10 each or 6 for $50 and can be obtained at the Knights of Columbus Lounge on Wayne Rd downtown.
Come to a tea catered by Victoria's Tea Salon on Thursday, July 13 from 6:00 p.m.-8:00 p.m. on the lawn at the Knights of Columbus. Relax and enjoy an evening with family and friends while feasting on a delicious assortment of tea sandwiches, delectable scones and desserts along with a bottomless cup of tea. Tickets are limited and are $25 per person. Call Paul at 734-748-3771 for tickets. There will also be a quartet from the Michigan Youth Philharmonic. Appropriate dress is required.
Paul Sposite of the Knights of Columbus is looking for sellers for the community-wide garage sale on Friday, July 14. Spots range from $10-$25. If you need to rent a table, there is an additional fee. Call Paul at 734-748-3771 for more information. Space is limited and not restricted to Wayne residents. If you don't want to sell, come buy!
There will be a Strawberry Shortcake Social on Friday, July 14, 6:00 p.m.-7:30 p.m. Come enjoy an old fashioned social with your family friends and neighbors. There will be activities for the kids and the young at heart. This event is free to attend.
An Antiques and Collectibles Sale will be held Friday and Saturday starting at 11:00 a.m. Come and browse the treasures of the past. Free to attend.
Wayne Main Street
Wayne Main Street is proud to collaborate with the Detroit Institute of Arts in bringing a Drop-In art workshop to downtown Wayne on Friday, July 14, from 11:00 a.m.-4:00 p.m. at the Knights of Columbus, 3144 S. Wayne Rd.
This workshop is part of the DIA Inside Out project, funded by the Knight Foundation. This workshop is great for aspiring artists and crafters of all ages. You never know what the awesome team from the DIA will bring to this event. It could be yarn art, crafting, watercolors or more. The mystery is part of the excitement. The event is free to attend and open to the public. Register online to RSVP at https://www.event-brite.com/e/dia-drop-in-workshop-tickets-35178604152. This event will be fun for creatives, kids, scouts, families and makers.
US 12 Cruise
Come cruise down Michigan Avenue or watch from the sidelines during this Classic Car Cruise, live music and great eats brought to you by US-12 Bar & Grill.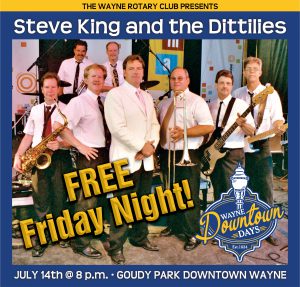 Wayne Rotary Concert in the Park
The Rotary is bringing Steve King and the Dittilies to Goudy Park on Friday, July 14, at 8:00 p.m. for a family concert in celebration of Wayne's Downtown Days and sidewalk sales. Billed as "America's favorite rock 'n' roll band and variety show, "the group showcases hit songs from the 1930s through the present. Since the 1970s, the Dittilies have performed on stage, television and radio in international venues for family clients to Fortune 500 sponsors. Mark your calendar now to remind yourself to come out and support these local events.
Wayne Historical Museum
Saturday, July 15, 10:00 a.m.-6:00 p.m., explore Wayne's Historical Museum and shop direct sales vendors on the lawn.
ICON Computers
Icon will be hosting their annual hearse event on Saturday, July 15, from 10:00 a.m.-5:00 p.m. There will be free giveaways all day. Come out and meet Dead Fredd. Also come enjoy asylum beverages and the Casketeria Grill. See classic hearses. Visit Creepy Crafters, CreepynCute Shop and the Wayne Robotics Team.