Councilman Sutton Resigns
Mayor Rowe read Council Sutton's letter of resignation to the community at the July 5th Wayne City Council meeting. From the letter Sutton stated:
"After a great deal of contemplation, I am writing you this letter to inform you of my decision to resign from my position on The Wayne City Council. Please accept this letter as my formal resignation, effective July 1, 2017.
While I believe that I am moving on for good reasons, I am sorry to be stepping down from my position as Councilperson for the City of Wayne. I want to thank you for your support during my time on council, which I have found to be enjoyable and very fulfilling. At this pivotal time in my life, it is important for me to focus on my family by providing them with the best future possible and to focus on moving forward with my career as a Paramedic. It has been a pleasure serving the great City of Wayne and I am proud of the accomplishments that have been made during my time on council."
Information on how to apply to fill the vacancy will be announced the week of July 10th at cityofwayne.com or call Wayne City Hall at 734-722-2000.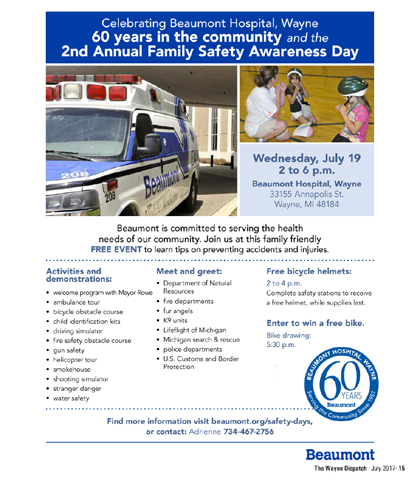 Family Safety Awareness
Come to Beaumont Hospital, Wayne on Wednesday, July 19, from 2:00 p.m.-6:00 p.m. for their 2nd Annual Family Safety Awareness Day. Beaumont Wayne has been in the community for 60 years and is committed to serving the health needs of our community. This FREE event will be fun for the whole family. There will be an ambulance tour, bicycle obstacle course, child id kits, driving simulator, fire safety obstacle course, helicopter tour, smokehouse, water safety, gun safety and shooting simulator. You can meet folks from the Department of Natural Resources, fire departments, police departments, K9 units, Fur Angels, Lifeflight of Michigan, Michigan Search and Rescue and US Customs and Border Protection. From 2:00-4:00 p.m. free bicycle helmets will be given (while supplies last) to those who complete safety stations. Enter to win a free bike; drawing will be at 5:30 p.m. For more information, contact Adrienne at 734-467-2756
or visit Beaumont.org/safety-days.
Breakfast at Karma Coffee and Kitchen
Karma Coffee and Kitchen, 35634 W. Michigan Ave, is now open for breakfast! Karma has expanded their hours and is now open at 8:00 a.m. Tuesday-Friday.
DIA Inside/Out program leaving soon
If you haven't already visited the paintings displayed around downtown Wayne as part of the 2017 DIA Inside/Out program, you only have a few more weeks to do so. The DIA will be removing the art Monday, July 17. Get your map at City Hall, Helium Studios or the Wayne Historical Museum/Wayne Main Street office. Participate in the Scavenger Hunt and enter the contest to win prizes. Entries are available at the above-mentioned places or you can find it online at www.downtownwayne.org.
Light Up Wayne!
A new program in Wayne encourages residents to turn on their porch lights tonight and every night to help deter crime. To do this, you may pick up a free high-efficiency 9W LED light bulb for your porch to light up Wayne for safety. The cost to run a high-efficiency LED light is less than $10 per year and lasts over 25,000 hours. You can pick up your free bulb at ICON Computer Solutions (35838 W. Michigan Ave.), Wayne City Hall (3355 S. Wayne Rd.) or Wayne Police Department (33701 Michigan Ave.). You must show proof of Wayne residency to receive the free lightbulb. Other partners in this program are the Michigan State Police and Wayne Neighborhood Watch Patrol.
Farmer's Market
Brought to you by Beaumont Wayne, you can visit Beaumont Hospital Wayne every Thursday from now until September 28 from 10:00 a.m.-1:00 p.m. for a weekly Farmer's Market. The Eastern Market Farm Stand will provide a seasonal bounty of fresh, healthy and affordable fruits and vegetables as well as a selection of specialty items from local food merchants. The market will be located at the canopy area of the Surgery Center entrance drive.
Give a little help to a neighbor…
Friends 2017 will be holding their annual community event designed to help a Wayne resident on Saturday, September 9 (rain date: September 16). On the day of the event, volunteers will donate approximately six hours of time to work on projects such as painting and/or planting at a preselected Wayne home. A continental breakfast will be held at 8:30 a.m. at the HYPE Recreation Center. Lunch will be served on site. Youth group volunteers are welcome as long as there is one adult for every five youth volunteers. If you are interested in volunteering, you can contact Albert Damitio at (734) 729-2879 or damitioalb@gmail.com.
Cemetery walk
The Wayne Historical Society will be holding their 4th annual Cemetery Walk on Sunday, October 1, at St. Mary's Catholic Cemetery. This will complete the cycle of all cemeteries within Wayne's city limits. Past walks were held at the Old Wayne Cemetery, Glenwood Cemetery and West Lawn Cemetery.
Scavenger hunt in Wayne
Wayne Main Street has created a Scavenger Hunt that encourages participants to visit all 10 art exhibits from the DIA Inside/Out program that are throughout the downtown area. Those who complete the Scavenger Hunt could be entered in a drawing to win some exciting prizes. Created by Rachel Lessard, the map has a question about each piece of art that must be answered. You then need to unscramble the highlighted letters to determine the puzzle answer. Entries then need to be dropped off at either Wayne Main Street/Wayne Historical Museum (if closed, you can drop through the mail slot at the side door) or Helium Studio during business hours. You can download and print a copy of the Scavenger Hunt at https://waynemainstreet.files.wordpress.com/2017/03/inside-out-wayne-scavenger-hunt-map.pdf or find one at Helium Studios, City Hall or the Wayne Public Library. Instructions and rules are on the Scavenger Hunt map along with coupons that can be used at select downtown Wayne businesses.
Families Against Narcotics
According to the Northwest Wayne County FAN (Families Against Narcotics) webpage, Addiction & the Family was the topic of the June 5 meeting. "Nearly 80 people attended this public forum, where Northwest Wayne County FAN board members Angela Bogota and Andy Hopson shared their personal experiences with addiction, challenges their families faced, and how family interaction both helped and hurt the recovery process. Angela is a young person in long-term recovery from addiction; Andy is in long-term recovery and is also the father of children who have struggled with addiction. Martha Nacy, a therapist from Brighton Center for Recovery with extensive experience working with families affected by addiction, delivered an outstanding PowerPoint presentation through which she shared information and expert advice on how family members should deal with a loved one struggling with addiction. This forum was so well-received and so informative that the City of Wayne asked us to do an encore performance. We will be presenting this same forum and speakers on July 26th at the HYPE Recreation Center in Wayne at 6:00 pm."
What is addiction? is the topic of the August 7 FAN meeting. The science of addiction will be explained along with how it impacts the brain, how it impacts behavior, and why it's so difficult to achieve and sustain recovery.
Opioid addiction is on the rise and affects more than just those who are addicted. FAN is dedicated to eliminating the stigma associated with addiction and providing families struggling with the disease the support and resources they need.
Meetings of the Wayne County FAN chapter are the first Monday of the month 6:30 p.m.-8:00 p.m.at LifeChurch Annex located at 6900 N. Haggerty Rd. in Canton. These meetings are open and free to the public.
Townsend tea
Join the Wayne Sometimes Travelers as they head out on their next bus trip Wednesday, July 12. They will be visiting Cranbrook House and Gardens in Bloomfield Hills to see some of what the over 40 acres holds, including formal, woodland and naturalistic gardens. Next will the Townsend Hotel in Birmingham where lunch and tea is included in the trip price. Everyone will get a scone, five finger sandwiches (one of each kind) and four miniature pastries along with tea or coffee. The final stop will be Henry's Farm Market/Greenhouse in West Bloomfield where there will be a tour and then shopping. The trip will leave from the Westland Friendship Center at 8:30 a.m. and return at 6:30 p.m. Trip is $89. For more information or to sign up, call the Wayne Senior Services office at (734) 721-7460.
Remember when…
The Wayne Sometimes Travelers will take a trip to Wyandotte during their Remember When…bus trip on Wednesday, August 16. They will start with a lunch at Smokies Restaurant and Bar where you will have a choice between three restaurant favorites along with two side dishes, dessert and a beverage. After lunch, take a two-hour narrated cruise on the Diamond Jack River Cruise where cruisers will see the new, exclusive community of waterfront mansions, accessible only by ferry, that now dot Bob-Lo Island. Other sites of interest that you'll cruise by include Calvert Canada Distillery, Fort Malden, Kings Navy Yard Park, Stony Island, Livingstone Channel and the Grosse Ile Lighthouse. After the cruise, there will be time for shopping in downtown Wyandotte. This trip is $74. For more information or to sign up, call the Wayne Senior Services office at (734) 721-7460.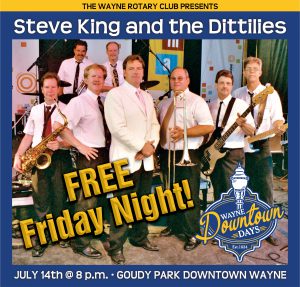 Steve King and the Dittilies
Wayne Rotary is bringing Steve King and the Dittilies to Goudy Park on Friday, July 14, for a family concert in celebration of Wayne's Downtown Days and sidewalk sales.
Household hazardous waste collection
There are two more household hazardous waste collection events being held this year in Wayne County. The next one will be August 12 at the Westland Shopping Center. The final one will be held October 7 at Wayne County Community College-Downriver Campus in Taylor. This is your opportunity to get rid of your unwanted household chemicals, cleaning products, automotive fluids, paints and stains, and old electronics to be properly disposed of for free. They will also be collecting lawn products, fluorescent light bulbs and pharmaceutical waste. For a complete list of acceptable items, please visit www.WayneCounty.com.