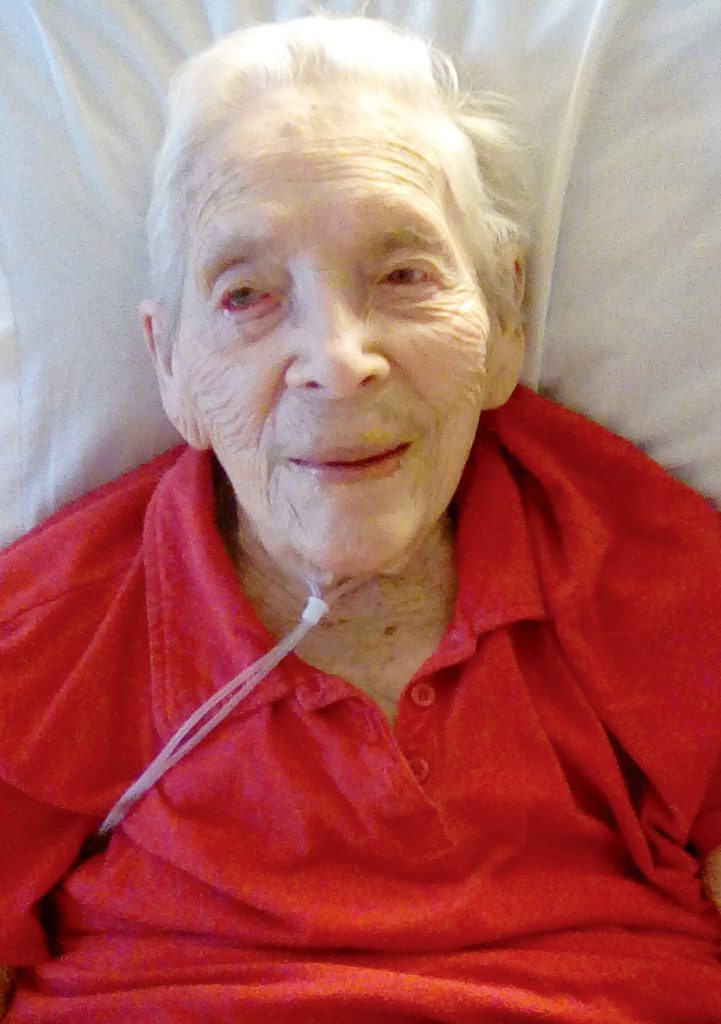 By Carolyn Marnon – Winifred Eberts was born at home in Wyandotte almost 108 years ago on August 18, 1910. When she was 2 years old, her parents moved to a small produce farm in Taylor, otherwise known as a "truck farm" because fruits and vegetables from the farm were trucked to market for sale.
Like most children in the early 1900s, Winifred attended a one-room schoolhouse from 1st grade until 8th grade, the last grade she attended. She had to walk 2 miles each way to school in all kinds of weather. It's not known whether that was uphill both ways.
Winifred helped out at the 40-acre family farm. She and her mom would wash and bushel the produce and get it ready for sale. Winifred and her dad would then pack up the Model T pick-up truck and head down to Western Market (located on Michigan Avenue at 18th St.) in Detroit. According to an article on Curbed Detroit about the "sister" to Eastern Market, "Western Market was almost entirely erased by the Fisher Freeway in 1965." The $3,000-$4,000 they earned selling produce during the summer is what sustained them for the rest of the year.
The Ebert family sold the farm and moved to Romulus just before the Depression when farms were selling for large sums. However, the family only got about half the amount of money because of the Depression.
Although she was an only child, Winifred says "I had fun." She hung out with her cousin Ruth who was the same age. They had a close bond all their lives. Ruth died seven years ago at the age of 100.
When she was 20-years old, young Winifred met Emery Nichols. "That was quite a story," says Winifred from her bed at Maple Manor in Wayne. Her cousin picked her up, she met Emery and "that was it." They married and had three children: Joyce Chiodini, Emery Nichols Jr, and Pat Garber. Winifred stayed home to take care of the children while Emery worked.
Emery and Winifred had been married about 31 years when Emery died. She was about 50. Her cousin was a veterinarian who knew a doctor at Nankin Hospital (located at Michigan Avenue and Elizabeth St). The doctor helped Winifred get a job in the kitchen where she did things like pass out trays. When the hospital closed, she went to work at a couple different convalescent homes. It was hard to find work with an 8th grade education. When she finally reached 62, she stopped working and applied for social security. Those days, she received more from social security than she had received when she was working.
Three children, six grandchildren and six great-grandchildren round out her family. Her son tries to visit every day at supper time to help her eat while her granddaughter, Susan Patterson, comes to visit 3-4 times a week. The others also visit.
Winifred has been active in several groups. She attended St. Mary's Catholic Church; the church now comes to her. She was also active in Wayne's Golden Hour Club. The members of the group traveled all over the world, including Europe and many places in the U.S. "Even went to Spain," she pipes up from her bed. Her son says Hawaii was another big trip. "Oh yeah" she responds. Don Ho and luaus were highlights of that trip. Prior to traveling, she had spent most of her life within a 50-square mile area.
She never collected anything. She didn't have many hobbies. She did like to play cards and loved card parties. She enjoyed watching Lawrence Welk. Now, she loves her little transistor radio. When asked about computers, she utters "I don't know nothing." She was asked what she thought of cell phones, but she had no response except to say she liked party lines because you knew what everyone else was doing.
It was mentioned that when she was 20, she went for a ride in an open-air cockpit plane. Jets were still a thing of the future.
She's lived at Maple Manor for a little over 2 years. She came there when her son, Emery, could no longer care for her at the home she had lived in on Woodward since marrying Emery Sr. She loves having her nails done. She also enjoys watching the Detroit Tigers on her TV.
She never thought she would live this long. Her father died at about age 50 while her mother lived to be about 85. Asked what her secret was to living so long, Winifred said "Just live…eat…sleep." She never smoked. She ate eggs, roast, cakes and pies. In fact, the whole family did. That's how they lived all their lives…eating whatever they enjoyed.
Her smile captivates her visitor. As she nears her 108th birthday, Winifred still has her teeth! She lost one or two over the years, but she even still has some of her original fillings. Her son says she has had a pretty good life. "I grow up and see a lot of different things," Winifred says. "It didn't bother us. It was how we were raised."
As our interview came to a close, Emery told me about some of the aches and pains plaguing his 80+ year old body. "It's hell getting old," he sighs. "You tell me!" quips Winifred.