The City of Wayne has seen some significant changes this year. While the administration and council have seen some familiar faces leave their positions and they have continued to deal with a budget deficit, there have been some positive developments that show Wayne is ready for a comeback.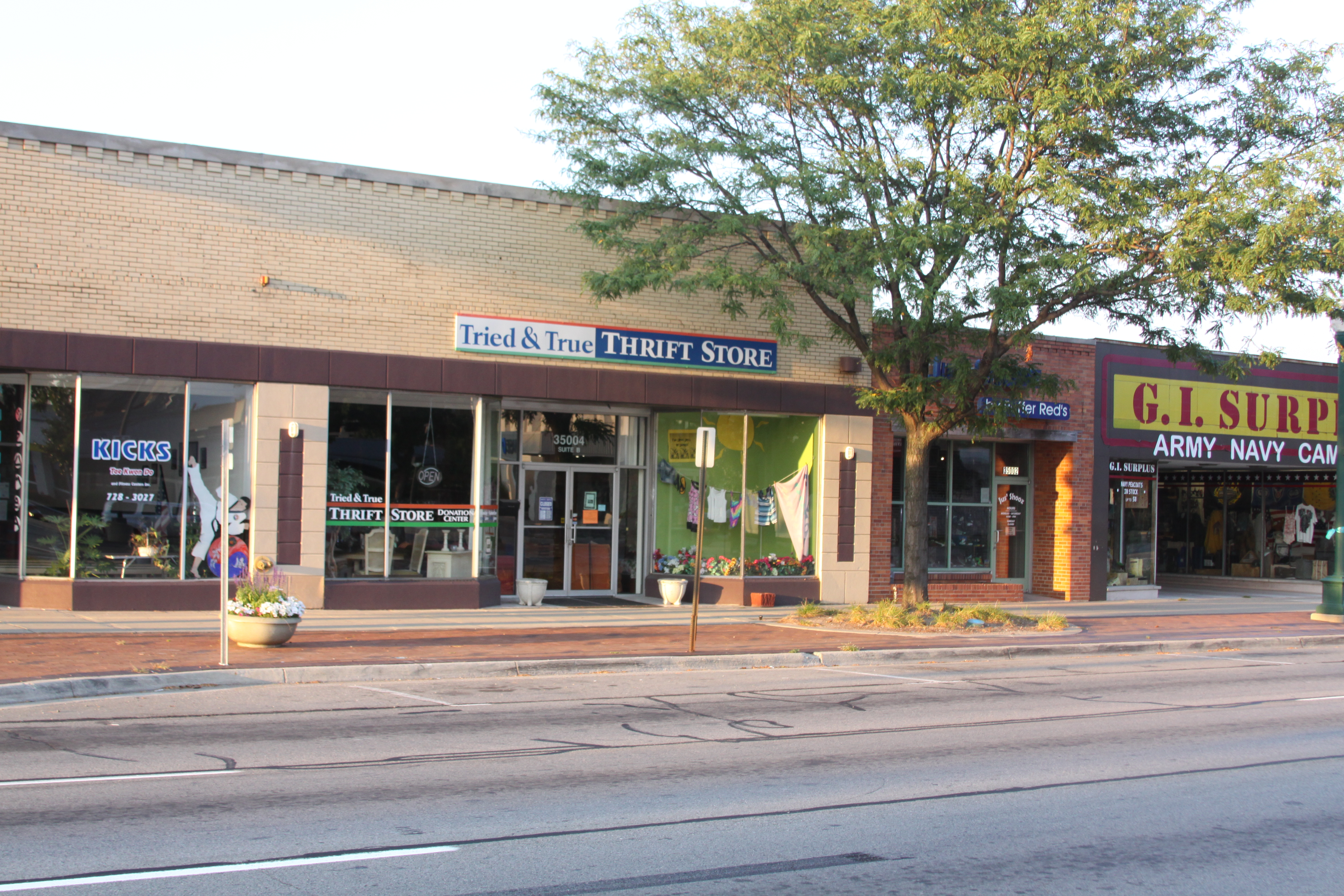 Main Street
It began in 2011 with a group of dedicated volunteers who wanted to revitalize downtown Wayne. The Wayne Ripple Effect  spearheaded efforts like downtown spring clean-up days, spring flower planting and the annual scarecrow display.  They also filled out an intensive application for the Michigan Main Street Program.
In 2014 Wayne was select as one of three communities in the state to participate in the selected level of the Michigan Main Street Program by the Michigan State Housing Development Authority (MSHDA). There are 18 communities in Michigan that are currently at the Select or Master level.
As part of the Select Level of Michigan Main Street, Wayne will receive five years of intensive technical assistance, with a focus on revitalization strategies designed to attract new residents, business investment, economic growth and job creation to their central business districts.
"The Michigan Main Street program will help these three communities create opportunities for redevelopment, place making and economic growth just as it has in downtowns throughout Michigan for the past 10 years," said Gov. Rick Snyder. "Vibrant communities and downtowns are critical as we look to attract new investment, help local businesses grow and retain and attract the talent that is needed to reinvent Michigan."
Wayne is the first Select Main Street Community in Wayne County and the only urban community selected to date.
After Main Street came to town, the Ripple Effect committee decided to change their name to Wayne Main Street- Creating A Ripple Effect. The group was instrumental in choosing the Main Street Executive Director Lindsey Wooten.
The Main Street office is now located at the Wayne Activity and Banquet Center and Wooten works with residents, business owners and city administration to spearhead the downtown revitalization.
City Council
In 2014 Councilman Jim Henley and Mayor Al Haidous resigned. David James was selected to fill the vacancy left by Henley in July. James has served on the Wayne-Westland Community School board, Westland City Council and Wayne Planning Commission. He is also a real estate agent. James will serve until the next election in November 2015.
Mayor Al Haidous ran for and won a Wayne County Commission seat. He resigned his post in November  and council appointed James Hawley to the mayor position.
At their December meeting council appointed Tony Miller to council. He will serve until the election in November 2015.
Administration
City Hall has a new leader. City Council hired David Murphy as the new interim city manager in October. He was city manager in South Lyon for five years and also worked in Almont, Caro and Brighton Township. He took over for Police Chief Jason Wright who retired on Oct. 17. Wright served as interim city manager after Joseph Merucci resigned in September.
Several department heads also left or retired in 2014. Parks and Recreation Director Nathan Adams left and Juan Bradford was appointed to the position. Library Director Paulette Medvecky retired and returned in a part time position as a co-library director with Steven McGladdery. Deputy Police Chief Al Maciag was appointed Police Chief in October after Jason Wright retired.
City
Council Chambers repair
On March 5 City Hall was evacuated because employees saw smoke coming from a heating duct. While firefighters were investigating the cause of the smoke they noticed damage to the roof above council chambers.  All four trusses that support the roof show signs of distress. Council chambers have been closed since March.
The damage was caused by the excessive snowfall last winter. City council voted to pay the $1,000 deductible to fix the roof trusses over the council chambers at City Hall. The insurance company will cover the rest of the costs, which is about $10,000.
City Hall operations will temporarily move to Vandenberg Elementary School this spring while City Hall is repaired.
Fire Authority plans halted
In June Wayne-Westland Fire Chief Michael Reddy became chief of the Inkster Fire Department. The goal was to prepare Inkster to become part of a Fire Authority with Wayne and Westland.   But this fall the cities decided not to move forward with the authority. Both Wayne and Inkster have budget deficits to manage and at the time Fire Chief Michael Reddy said, "Focus on what you need to do. We are all partners anyway under mutual aid."
Proposals
On Nov. 3 voters in the City of Wayne approved Proposal 1, which will divide the city into six districts and have council members elected from those districts. Candidates will be required to live in the district they represent and residents of that district will only vote for a council member from their district.
The mayor is the only position that will be elected citywide.
This will be effective in the primary and general election in 2015 for Districts 1, 2 and 3  and in 2017 for Districts 4, 5 and 6.
But before voters choose council via districts the current council needs to create the six districts by redrawing precinct boundaries.
The precinct boundaries need to be redrawn and reduced from seven to six. The City Code of Ordinance and City Charter needs to be amended.
Voters also approved Proposal 2 in November. This will provide 16-year term limits for elected officials.
Proposal 3 is a five- year renewal of a one-mill levy to support police and fire operations. This mill will generate about $370,000 annually.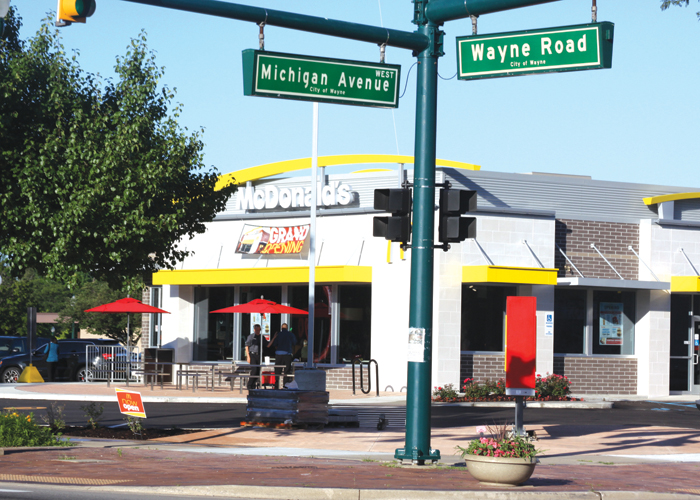 Business
McDonald's
McDonald's came to Wayne in June. Located at 35111 W. Michigan Avenue the 4200 sq. ft. restaurant features a double drive thru and has a seating capacity of 70. It is open 24 hours a day. The café style McDonalds also offers outdoor seating.
The owner operators are James and Marla Thrower.  Mr. Thrower is a former Detroit Lion and Philadelphia Eagle and has been in the McDonald's business for over 25 years.  The General Manager is Tammy Ramsey.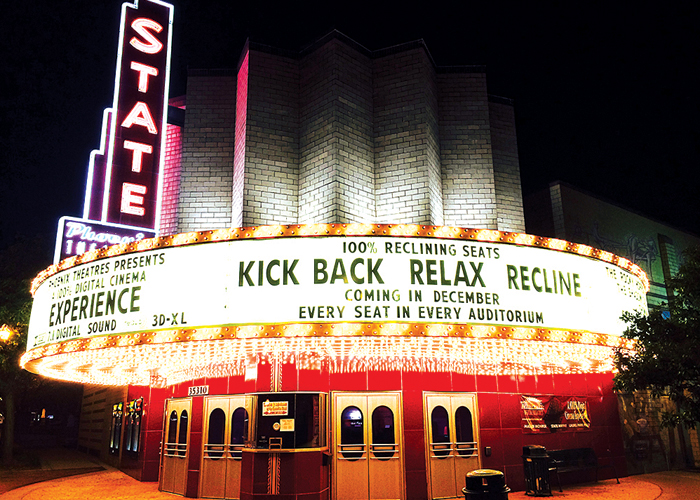 City sells State Wayne Theater
At their July 1 meeting Wayne City Council voted 6-0 to sell the State Wayne Theater to Phoenix Theaters.
State Wayne Theater shows The Interview
The State Wayne Phoenix Theater was among three theaters in Michigan that began showing the controversial film The Interview on Christmas Day. Sony initially cancelled the release of the film after threats from North Korea. The film, starring Seth Rogan and James Franco, is about a plan to kill North Korea's leader.
Moviegoers were treated to brand new luxury reclining seats in all four theaters. In addition, the theater's renovations included newly installed carpet, increased screen size and updates at the concession area.
Oakwood joins Beaumont and Botsford Hospitals
Beaumont Health System, Botsford Health Care and Oakwood Healthcare combined their operations into a new $3.8 billion health care organization following unanimous approval by their boards on June 23.
Under the terms of the definitive agreement, the three organizations are creating a new, not-for-profit Michigan health system called Beaumont Health.
The three organizations announced a letter of intent on March 21 to integrate their combined eight hospitals and 153 other patient care sites into a new comprehensive, collaborative health system focused on advancing quality and access to care throughout the region.
Mark Chevrolet Grand Re-Opening Celebration
In August Mark Chevrolet, 33200 Michigan Avenue, celebrated their Grand Re-Opening.
They completely renovated the interior and exterior of the existing building including enclosing the canopy on the west side of the building that is used for service write- ups.
They have also added a vehicle plaza on the east side of the building to display vehicles. The former site of Beehive Restaurant is now a customer parking lot.
Jack Demmer Ford
Construction at Jack Demmer Ford will be complete soon. City council approved a rezoning so they can transform their Affordables operation on the northwest corner of Michigan Avenue and Newburgh into Quick Lane Auto Service Center. This new 9500 sq. ft. facility is a no appointment necessary maintenance and light repair operation. They will perform 14 different services including oil changes, tires, shocks, struts, brakes, exhaust, tune-up and alignments.
With these two improvements Jack Demmer Ford will be investing almost $5 million in Wayne.
American Jetway
American Jetway Corporation, an aerosol products manufacturer in  the Wayne Westland Community is planning to make a $15 million investment to expand their operation in Wayne on their property on Venoy while still operating their Myrtle St. location.
For more than 50 years American Jetway has provided environmentally friendly liquid formulas in aerosol cans to small and large businesses.
The 17 -acre parcel from Venoy to Hubbard Street will house manufacturing and warehouse facilities as well as offices.
There will be a 25,000 sq. ft. addition on the south side of the property. There will also be a new inside roadway to make it easier for trucks to get in and out of the location.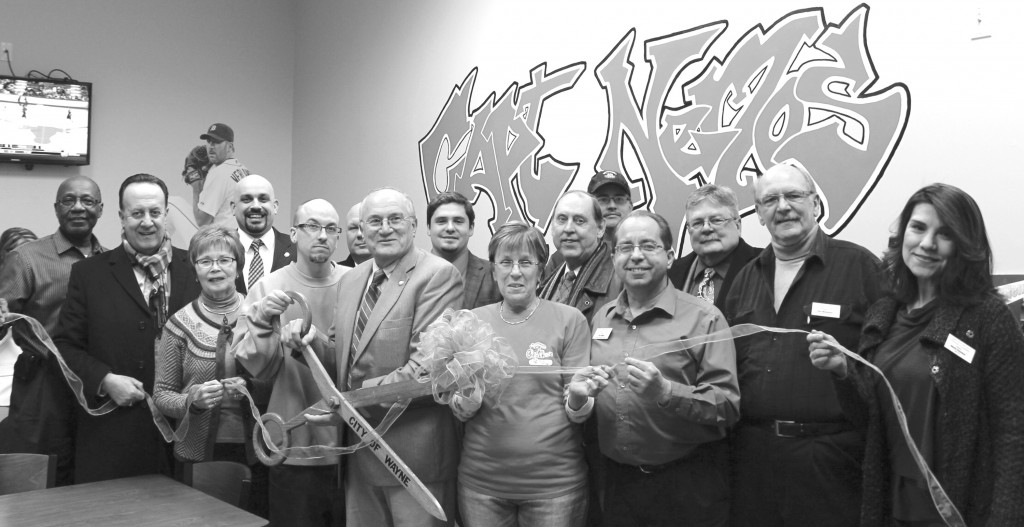 Captain Nemo's grand re-opening
It's a new location but the same delicious menu. Captain Nemo's Submarine Shop, 4422 S. Wayne Road, just north of Annapolis, moved next door to Seven Star Liquor this year. Their new larger location includes a dine-in area with a television in addition to their take-out counter.
Mom and son owners Bev and Brad Wiggins have been in Wayne for six years. They said some of their more popular subs are the pizza and steak and cheese.  They also offer salads, French fries, mini tacos, hot dogs, wings and drinks.
New Urgent Care
City of Wayne officials and Chamber of Commerce members welcomed a new business to Wayne with a ribbon cutting in November. Wayne Urgent Care is located at 34815 Michigan Avenue, Suite 1. They are open 10 a.m. to 10 p.m. daily including weekends and holidays. No appointments are necessary. All major insurance plans are accepted. They treat strains, sprains, fractures, wounds, respiratory infections, earaches, and more. They have Digital X-Rays, EKG, Ultrasound, Lab Testing, physicals and immunizations.
Wayne Westland Federal Credit Union celebrates 60 years
The Wayne-Westland Federal Credit Union celebrated their 60th anniversary on April 4. The Wayne Westland Federal Credit Union serves the financial needs of over 10,700 members/owners. Its asset size is over $76 million.
People
City loses long time volunteer
Art Quintal, 76, a dedicated member of the Wayne Rotary passed away on April 14.  He was born in Detroit and is survived by his wife, Patricia, children Sheri, Kimberly and William, seven grandchildren and three great-grandchildren. Visitation was at Uht Funeral Home. He was cremated and his ashes were interred at Cadillac Gardens West Cemetery in Westland.
Church welcomes familiar face
The new senior minister at First Congregational Church of Wayne is a familiar face. In August Chris Richards was welcomed back as the church's 35th full time minister. He was also a minister for the church from 1994-1998. Richards has a BA from John Wesley College in Owosso; Masters of Divinity from Colgate Rochester Divinity School in Rochester, NY and was ordained on June 18, 1982 by the FCC of St. Johns. He and his wife, Martha, are very happy to be back in Wayne. Richards has spent the past 32 years in ministry, the past nine years at a church in West Bloomfield.
Police recognize Officer of the Year
Stephanie Strasser, a 17-year veteran of the Wayne Police Department, was named Police Officer of the Year. She began her career with the Wayne Police Department in June 1997 and was a patrol officer until March 2013 when she was promoted to the detective bureau.
Diamond of Community winner
The Commission on Aging and Wayne Senior Services named Wayne Dispatch columnist Darlene Hawley the 2014 Diamond of Community. Since 1995 the DOC has recognized a Wayne resident, 70 years of age or older, who is still actively volunteering in the community. Darlene  is an active member of the First Congregational Church where she teaches church school, directs plays and holds other leadership roles.
She is a member of the Wayne Historical Commission and implemented the "History in a Box" program where she visits second grade classrooms in Wayne in costume to acquaint students with the value of their history and the history of Wayne.
She is President of the Wayne Garden Club and has been a member of the Literary Club since 1963.
Schools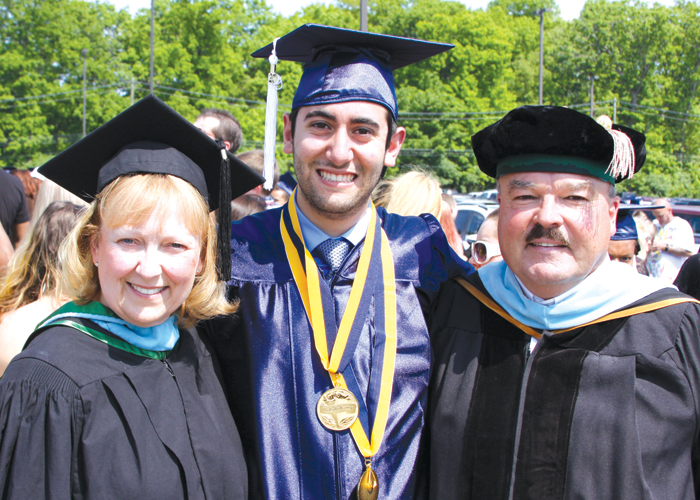 Baracy retires
In June Dr. Greg Baracy retired after 17 years as Wayne-Westland Community School District superintendent. The Board of Education hired Dr. Michele Harmala as the new superintendent. Harmala was previously the associate superintendent for instructional services and organizational leadership in the Farmington Public Schools.
Award Winning
Schweitzer teacher Jamie Tarhanich won Best in Class award from 94.7 WCSX radio in April.
Sports success
After a five year losing streak Wayne Memorial High School's varsity football team won two games this season under new coach Tim Finnerty.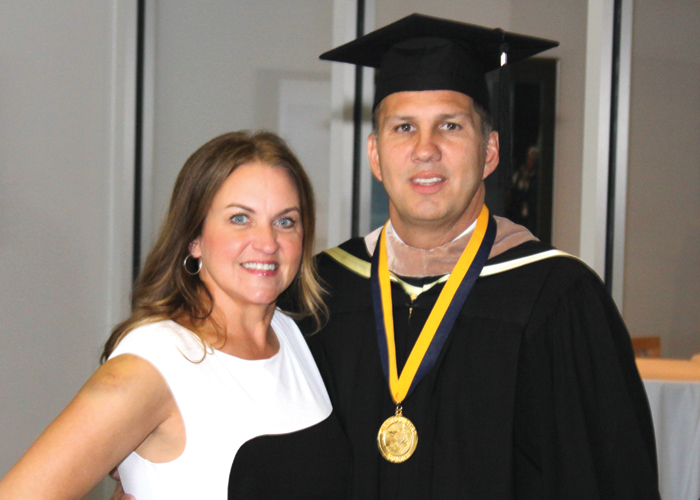 Distinguished Alumni
WMHS chose Jeff Styers as the 2014  Distinguished Alumni. Styers is a 1984 graduate and has been a generous supporter of the Champions of Wayne program and the Boxing gym at the Jefferson-Barns Recreation Center.
Sports success
After a five year losing streak Wayne Memorial High School's varsity football team won two games this season under new coach Tim Finnerty.
Breaking and Entering surprise
Robin DeJack, a lunch supervisor and bus supervisor at Schweitzer Elementary School, was surprised at school by Channel 955 Mojo in the Morning. They told her she was the recipient of their Breaking and Entering contest.
DeJack was nominated for this surprise by Schweitzer teacher Jen Largent because even though  she has been battling cancer for nine years she still comes to work everyday except for chemo day and helps the students and staff.
Her prizes included a year of cleaning and laundry services, gift cards and much more.
This is not everything that happened in Wayne in 2014 but just a portion of all of the events, people and places we covered this year. We will continue to bring you positive community news in the New Year. On behalf of The Wayne Dispatch we wish everyone a happy, healthy and prosperous 2015.