By Carolyn Marnon – Flames were raging skyward out of the roof of one of the buildings at Little Creek Apartments on John Hix in Wayne Wednesday, March 21, when the Wayne Fire Department rolled up to fight the fire. Ash could be seen floating down like snowflakes.
Inkster firefighters were on the scene with their ladder truck to put out smoldering fires on the roof after Wayne fire fighters put out most of the fire.
Wayne Deputy Fire Chief-Fire Marshall Jeremie Schneider said the official cause of the fire is an undetermined accidental fire. The fire started on a second floor balcony. There were rumors that a space heater started the fire. DC-FM Schneider said there was a space heater, but it was not plugged in, and the fire was not electrical.
Eighteen units were initially affected by the fire in the building. What appears as one building is actually two buildings that are separated by a fire wall. The occupants of the affected units were put up in a hotel by the property management company who was on scene.
There were units affected by water damage but not by the fire itself. Minor water damage occurred on the first floor. Belfor Property Restoration arrived on the scene to take out the water and dry the walls that same day. DTE Energy was able to work with everyone to get the electrical power cut off on one side of the firewall and yet still provide electrical to the other side of the building.
Thursday afternoon, the Fire Department was able to release the building back to the property management company after having performed all their inspections and investigations.
During the investigation, the building is boarded up and locks are put on all the doors which only the Fire Marshall has the key to. This procedure secures the site and the belongings of the property owners/tenants. Throughout this process, the fire department does not need to seek permission from anyone to enter the property to carry out their duties. Once they do turn over the property to the owner, they would then have to be granted permission to enter.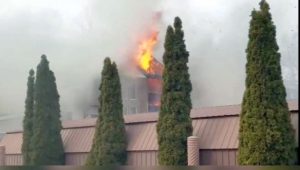 The fire was the first large incident to occur since DC-FM Schneider took over the position last fall. Cathy Lutkenhoff, Wayne Fire Department Administrative Assistant said it was the first fire where he wasn't being told what to do since he was the one in charge. He does say he was grateful that Wayne-Westland Fire Chief Michael Stradtner was on scene. Schneider said this was a "cut and dry fire" that was contained from the outside. "I'm very impressed with how well they did," he said of his fire fighters.
The last apartment fire DC-FM Schneider could recall in Wayne was at Cadillac Square Apartments on Michigan Ave.