By Carolyn Marnon – Fire Prevention Week is October 4 through October 10, 2020. The National Fire Protection Association theme this year is "Serve up Fire Safety in the Kitchen."
Wayne Deputy Fire Chief/Fire Marshall Jeremie Schneider reminds the community that "overloading electrical circuits, ignoring frayed cords and running extension cords as a permanent source of power are common hazards. Extension cords should only be used temporarily and never used for kitchen appliances. Be sure to always unplug charging cords when not in use."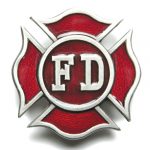 Five tips for preventing a residential fire:
• Install smoke detectors throughout the home.
• Install fire extinguishers.
• Teach children about the dangers of fire.
• Create a plan for escape in case of fire.
• Have a family communications plan set.
There are several common causes of fire in the home: clothes dryers, flammable liquids, smoking, children and pets, electrical appliances, portable space heaters, fireplaces and cooking.
In other Wayne Fire Department news:
All staff members of the fire department have fully recovered from COVID-19 (over half the staff were quarantined early in the pandemic).
After 23 years, the Wayne Fire Department will not be holding their Annual Pancake Breakfast. The breakfast has been a way to bring the community to the fire station for fellowship and fire prevention messages. In 22 years, the breakfast price has never been raised. Because of the pandemic, the department is trying to get their message of safety out in socially safe ways. The Wayne Public Library is holding a virtual fire safety message and will have packages provided by the Fire Department that can be picked up for the kids.
The Wayne Fire Department has a new mailbox that can be used by kids to submit coloring pages available on the departments Facebook page. The coloring page is a way to get kids to think of the Fire Department and fire prevention. Kids can color the page and put it in the mailbox. The department will hang the pages up for firefighters and Facebook friends to see.
The Wayne Fire Department is also currently accepting applications for Fire Fighters. Applicants must be US citizens, have a high school diploma or GED, and possess a current, valid Michigan driver's license and an excellent driving record with no more than three points on current driving record. Applications and more information is available on the City of Wayne website.