By Carolyn Marnon – HYPE Recreation Center has surpassed the 2000 member mark in the little over two years they have been in the old Wayne recreation center. When HYPE took over in August 2015, membership at the old rec center was approximately 150.
Ali Sayed, Chief Executive Officer and Founder of HYPE, said there have been many upgrades at the Wayne center. The banquet facilities and restrooms outside of them have been upgraded and had cosmetic improvements. Walking down the hallway, the overhead lights reflect a pleasing pattern on the walls. The work out facilities have been upgraded with new equipment.
"I rate this place highly," said member Steve Brown as he worked out in the weight room. Steve visits HYPE to use the weight and cardio rooms 3-4 days a week. "HYPE has done a good job and keeps doing things you can see. I was here when the city had it. They (HYPE) have put a plus to it."
Overall sales have also seen an increase at HYPE. Additional employees have been hired. The Hoops Grill has been open and is doing well. It is open to the general public Monday-Friday 4:00 p.m.-8:00 p.m. You do not need to be a member of HYPE to eat there.
HYPE and its employees have been active in humanitarian aid. In addition to a local toys and food program at Christmas and feeding 250 families at Thanksgiving, they have contributed to hurricane relief in places such as Texas and Florida. They held the Halloween Trick or Treat event and also sponsored 500 Wayne Westland students by providing back to school book bags and school supplies. This past summer, they hosted Meet Up and Eat Up where lunch and dinners were provided to students. HYPE has also teamed up with Wayne Memorial High School and Adams Middle School to offer job training to special needs students in partnership with the Michigan Rehabilitation Services.
Numerous vendor shows and UFC (Ultimate Fighting Championship) Cage Fighting have been held at the center. Classes are available for group fitness as well as personal training services being offered. A group rents the basketballs courts several times a week for futsal, a version of indoor soccer with a smaller, low-bouncing ball.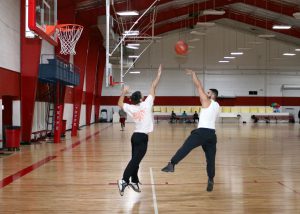 Plans for the future include upgrading the area upstairs by the swimming pool where parties are held and a second work-out area exists. Approximately $20,000 is generated from maintenance fees that are used solely for the upgrades. Ali is contemplating what he will be replacing almost 8,000 square feet of carpet on the pool side of HYPE with.
HYPE in Wayne has several benefits over the HYPE facility in Dearborn Heights. The banquet facilities host weddings, showers and other parties. HYPE also just started 2018 with a new catering service that can make it easier for groups to host events. The other benefit is the pool. HYPE is advertising Women's Only Swim Night on the 2nd and 4th Saturday of every month from 7:00 p.m.-9:00 p.m. for just $6 per person. No male or female children are allowed and women must be aged 13 and older.
"It's been an honor and a privilege to continue to serve the wonderful citizens of Wayne," said Ali. "We look forward to a good 2018 here at the center."
HYPE Recreation Center is located at 4635 Howe Rd. For more information, please call (734) 721-7400.