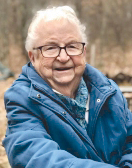 Irene Carpenter (Leininger) was born on November 13, 1927 in Sand Creek, Michigan. She passed away on March 12, 2021 at the age of 93 surrounded by her family. Irene married R. Allan Carpenter on October 26, 1946 and resided in Wayne until 1980. Together they had four children, David (Lynn) Carpenter, Alice (Earl) Spuck, Susan (Khamphay) Keomany, and Barbara McMurdie. She was loved by her eight grandchildren and 12 greatgrandchildren.
Irene enjoyed spending time outdoors with her family at their cabin near Parry Sound, Ontario. She enjoyed fishing, hiking and baking. She was a school lunch attendant in Bangor, Michigan where she enjoyed working with children. She and her husband enjoyed fishing with their family on their boat in Lake Michigan. She moved back to Westland in 1994.
Irene is preceded in death by her parents, Howard and Mary Leininger and her step mother Velma Leininger (Standish), her husband R. Allan Carpenter, four siblings and her grandson Brian Spuck.
In lieu of flowers, memorial contributions may be sent to Heart to Heart Hospice.