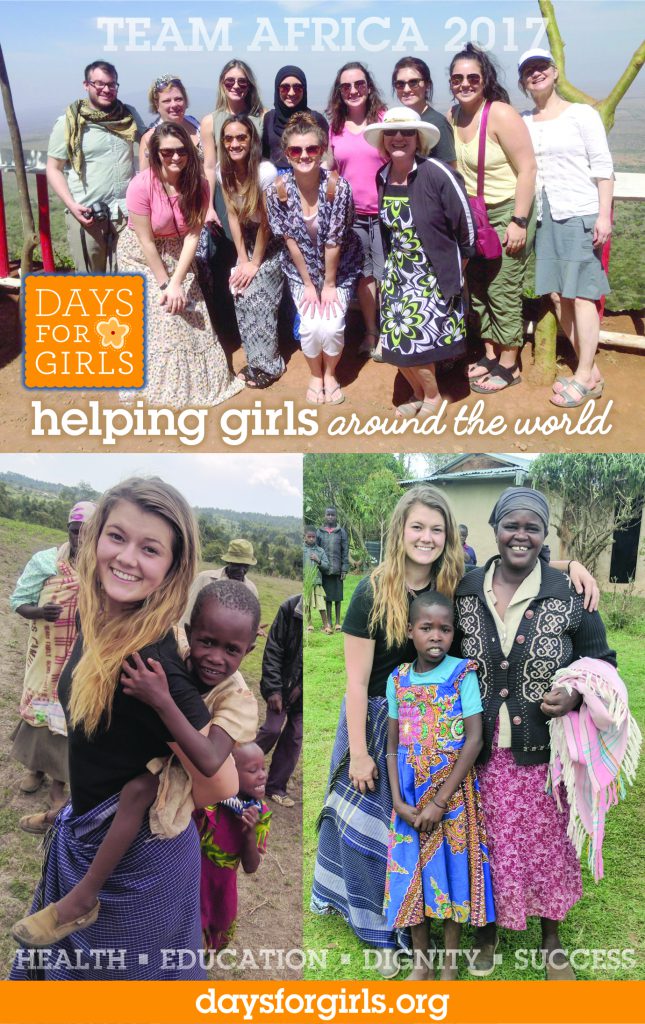 By Natalie Rhaesa – What does it mean to be changed?  If you were to look up the word 'change' in a dictionary or google search, you would see phrases such as: "to become different," or "to be transformed."    Change is powerful.  Some believe change is good, others believe change is inevitable.  Change can be many things but there is a change that is life altering…. the kind of change you experience when you take a risk.  Wayne resident Krysta Forrester knows all about this "change" because she experienced it for herself during a recent mission trip to Africa.
Krysta, a 22 year old Wayne State University nursing student and former Wayne Memorial High School graduate, took a special journey to help young girls in need.  She went on a ten day adventure to Africa with a group of 9 students as well as professor and organizer, Joan Bickes (Community Health Nurse) of Wayne State University and one professor from Oakland University. The flight to Africa was long, 9 hours from Metro Detroit to Paris, France, a 45 minute layover in Paris and then another 9 hour flight from Paris to Kenya's capital, Nairobi.  On top of the long hours of flight there is an 8 hour time difference, which leaves the team tired but anxious to land.
The team lands in East Africa (Kenya) in the night.   Upon arrival in the midst of the warm dry climate, the team is surprised to see palm trees at the airport.  It took a few days for the team to adjust to the climate and altitude of Kenya where the winter/rainy months begin in March.  Located 5,889 feet above sea level, the nights in Kenya can be cool, dropping to 48 degrees in the winter months with the coldest months being June, July and August.  Quite the opposite of what the team from Michigan experience.  For the most part the temperatures stay in the high 70's and 80's during the day and mid 50's in the evenings.  "The first few days were so surreal, it was so beautiful there" Krysta recalls.
The landscape in Nairobi (popularly known as "The Green City in the Sun") is filled with vegetation and fertile ground, helping Kenya to produce their two largest agricultural exports, tea and coffee.    On the first day of their journey, Krysta and the team traveled 10 hours by Jeep from Nairobi to Maseno with translators Isaac Kasura and his brother Anthony Kasura, both Safari guides in the Masai Mara Safari.   "Isaac was a very nice person, not only was he our translator and travel advisor, he was also our friend," Krysta said.  While traveling to the Great Rift Valley the team was able to see many of the tea plantations in the area.  "The tiny trees in this area reminded me of The Lion King trees," Krysta said.  The team traveled to the Great Rift Valley viewpoint, where they stood in awe of the breathtaking scenery.  The Great Rift Valley is known for its magnificent views and abundant wildlife… astronauts claim it is the most significant physical detail on the planet that is visible from space.
With Kenya bordering the equator, the temperature was very warm and dry and the team was supplied bottled water to keep hydrated throughout the trip.   "Obviously we were not able to drink their water," Krysta stated.  "It was interesting to learn how their diseases are perceived in Africa, like Aids is not a disease to them, it is a curse," Krysta said.  "The people of Africa also believe that high blood pressure is also a result of a curse and not a condition," she stated.  The team learned a lot about how the people in that area view diseases and curses through actual literature they looked at when they visited Mission Hospitals.  The booklets where there to inform the patients of what is true and false about diseases and medical conditions…. and they listed "a curse" as a false reason for a person to have a certain condition.
Krysta, who is studying to become a Registered Nurse, was surprised by the lack of equipment and medical supplies at the nurse's stations of the hospitals they visited.  "They didn't seem very sanitary either," she replied.  Krysta and her team had to take several precautions themselves before they could go to Africa.  They each needed a yellow fever and typhoid vaccine and they were given Malarone, an anti-malaria medication.  "I actually felt really sick on one day of our trip from taking the Malarone," Krysta said.  On their second night in Kenya they had to sleep under bug nets to keep from getting bit by mosquitos (which carry malaria.)  However when they stayed in the mountain areas with higher elevations, there was less risk for being bit by mosquitos.
The team finally arrived in Maseno to their first school on their journey.  It was a one room school with concrete floors, wooden benches and tables.   All the children wore uniforms and even the girls had their heads shaved.  The reason for keeping school aged children's heads shaved was for sanitary reasons due to the amount of insects that are attracted to hair.  On each visit they separated the boys from the girls so the team could teach the girls about hygiene and menstruation.  "The principal was very kind, she met with us, we signed a guest book, and then she escorted us to the room with the secondary school girls," Krysta stated.  The team was greeted by a female translator Lynet, who would help them explain to the girls how important hygiene was and understanding the process of menstruation and how to produce the reusable shields and liners themselves.  "The schools in Africa teach English to all of their students, however they do not teach slang words, so when I would speak for the translator to translate, the girls would laugh because I used slang," Krysta said with a smile.
ABOUT DAYS FOR GIRLS
The team's mission was to bring hygiene products for the girls and teach them how to use the reusable liners made possible by the organization "Days For Girls."  This organization puts together DFG Kits.  Each 'kit" comes with 2 fabric snap on shields (each containing four absorbent  fabric liners), 2 pair of underwear, 1 wash cloth and 1 bar of soap all tucked into a zip lock bag and then placed into a colorful fabric draw string bag.
DAYS FOR GIRLS MISSION
A world where every woman and girl has ready access to hygiene solutions.  Days for Girls envisions a world where menstruation is no longer a source of shame and taboo. Days for Girls is working to shift how women and girls see themselves and are seen by their communities. We offer girls and women new life choices and spur narrative change, through providing sustainable hygiene solutions, health education, and income-generation opportunities.
Days for Girls is dedicated to creating a free, dignified, and educated world, through providing lasting access to feminine hygiene solutions and health education.   Thus far, Days for Girls has provided Kits and health education to over 640,000 women and girls in over 100 countries, both through volunteer Chapters & Teams and through our Enterprise model. Days For Girls Kits are only the beginning.   Kits are a gateway to vital conversations around health, safety, and leadership.   Days for Girl is committed to supporting a girl throughout her entire lifecycle, from providing her with a Days For Girls Kit, to teaching her health education, to offering training for her when she grows older, so that she can produce Days For Girls Kits and support hygiene needs in her community.
THE ADVENTURE CONTINUES
The first stop was successful, most of the older girls had some understanding of menstruation, either through a mother, sibling, aunt, grandma or teacher.   "Our team brought over 1,300 Days For Girls Kits.  We each had a carryon bag and we checked a bag, the checked bag we filled with Days For Girls Kits.  We had a 50 pound limit for the checked bag, but the kits were light and we were able to get a lot in each bag" Krysta said.  "One of the schools we visited was on a mountain, we were dropped off at the bottom, given our luggage full of Days For Girls Kits and it was up to us to get them up to the school," Krysta stated.  "One of the girls from the school lifted my bag and put it on her head and carried it all the way up the mountain like it was nothing," she said.  "It took us 35 minutes to get up there, the people in Africa carry stuff on their heads all the time," Krysta said.  This school was called Emmatsi Primary & Secondary School.  "We were very well received by all of the schools we visited, I think the African people associate visitors with help," Krysta stated.   The girls were also intrigued by Krysta's skin tone and her long hair, the girls liked to touch Krysta's hair and lean on her and put her hair over their heads.  "While they had no running water, showers or food in their pantry, the abundance of poverty all around them, they don't see the imbalance of what others have.  They are very happy and they celebrate everything," Krysta said.  Statistics show that half of all Kenyans live below the poverty level and preventable diseases like HIV/aids, diarrhea, malnutrition, etc. make it hard for workers to stay healthy and therefore making it hard for them to earn money for their families.
The team then headed to Narok which was in the mountains so less malaria risk.  The translators Isaac and his brother Anthony are from Narok where the people there speak Masaii, their own language not Swahili like most African people in this region.  Temperatures still remained in the 90's in the mountains of Narok.  The team had accommodations in a small motel called Transist Motel.  While they were here in the hometown of Isaac and Anthony, they were able to take advantage of using the safari business internet to contact family back in the states.  "I told my mom that I might be coming back from Africa but part of my heart will stay in Africa," Krysta said.  The last school we visited was in Masai Mara, the safari section of the region.  The team stayed in a hotel called Entumoto Safari Camp.  Since Isaac and Anthony were Safari guides, they took the team on Safari while they were here and they were able to see beautiful animals native to that region.  "We saw Giraffes, and I got to feed one, we saw zebras, cheetahs, hippos, lions and elephants," Krysta said.  "We even had a picnic right in the middle of the safari under one of the cute Lion King trees," she said.
With her compassionate journey to Africa complete, Krysta has decided she wants to do more.  Within days of her return from Africa she has already connected with a group that will be going to Haiti to share the Days For Girls mission.  Krysta will be leaving June 7th with the Felecian Sisters of Madonna University,  to  visit Jacmel, Haiti for a 10 day mission trip.   To learn more about the Days For Girls organization, please visit www.daysforgirls.org   You can help make a difference in a girl's life!