The annual Scarecrow Reception will be held in Derby's Alley, 34924 W. Michigan Ave. on Saturday, October 16. An in-person voting contest will be taking place during the event and the winners of the three different contests being held (in-person voting, Facebook voting on Wayne Ripple Effect's Facebook page that is currently running until October 16, and Judge's Choice) will be announced. The Scarecrow Reception will also feature music, donuts and cider. The scarecrows are currently on display in downtown Wayne until November 1.
Each year, the Wayne Police Department's Awards Committee meets to select a Police Officer of the Year Award recipient as well as individual awards for exemplary service. Sgt. Boruta was selected for Police Officer of the Year. The Awards Committee also recommended the below awards. Chief Strong presented all officers with their awards last month as well as made an awards presentation at a recent City Council meeting.
Officer Bolton – Chief's Award – seizure of illegal narcotics, driving under influence
Officer Colwell – Chief's Award – seizure of an illegal handgun
Officer Talmadge – Commendation, Sergeant Hughes and Officer Colwell – Chief's Award – safe and professional resolution to a mental health emergency
Officer Jolly – Lifesaving Award – located a subject who was experiencing a medical emergency and had wandered off during extreme cold/snow without a jacket
Officer Jolly – Commendation, Sergeants Strasser and Perez – Chief's Awards – safely arrested a combative suspect who had severely injured his girlfriend
Sergeant Hughes and Officer Talmadge – Commendation – spearheaded campaign to help a child who had been paralyzed in a car crash. This campaign included the purchase of handicap van for the child's mother.
Friday, October 15, is a big day in the Wayne Westland Community School District! It is the annual John Glenn vs. Wayne Memorial Varsity Football game. It will be at 7 p.m. at Wayne Memorial High School. This year's game also coincides with Wayne Memorial's Homecoming. The District is proud that both schools will have their football players, cheerleaders and marching bands at the event. The NFL Flag Football teams from the elementary schools will also be recognized.
There's a Nightmare on Wayne Rd! The Wayne Chamber of Commerce is presenting this new event in Downtown Wayne on Saturday, October 23. The Kick-off and Welcome begin at 11 a.m. at the Goudy Park Amphitheatre. There will be a pumpkin pie contest, a pumpkin carving contest, and costume contests for kids and pets. Kids will especially love the Trick-or-Treating from 2 – 4 p.m. There will be food trucks at Goudy Park from 11 a.m. until 7 p.m.
Free clothing giveaway! CrossPointe Community Church will be having all of their clothing setup outside for free and easy "shopping" on Saturday, October 9, from 9 a.m. – Noon. There will be clothing options for all ages. Please stop by and check the event out. Everything is free! All are welcome. In the event of inclement weather, this event will be postponed. CrossPointe is located at 36125 Glenwood Rd. in Wayne.
The annual All-You-Can-Eat Pancake Breakfast with your Wayne Fire Department is Saturday, October 9, from 9 a.m. – Noon. Held at the Wayne Fire Station, 3300 S. Wayne Rd, the cost is $5 per person with children ages 10 and under only $3. Advance tickets are not necessary. There will also be games and raffles. Call (734) 722-1111 if you have any questions.
Members of Wayne Westland Federal Credit Union can now receive a free credit report on the last Friday of every month. Visit with member representatives in the lobby for all the details.
The Parks and Trails Committee will be spearheading a clean-up event at Goudy Park on Saturday, October 9, from 8:30 a.m. until Noon. Volunteers are needed to help. The Parks and Trails committee would appreciate it as the more who help, the less time it will take. The DPW (Dept. of Public Works) will be providing yard waste bags and other supplies. Volunteers are asked to bring work gloves, rakes, weeding and pruning implements and anything else that might help.
Come test your knowledge of Wayne history at Trivia Night with the Wayne Historical Society and Knights of Columbus #3021 Notre Dame Council on Wednesday, November 10, at 6 p.m. Have fun and enjoy a game of trivia centered around your knowledge of Wayne. You could even win prizes! Cost is $5 per person with 1-4 person teams. Food and drinks will be available for purchase. The event will be held at the Notre Dame Hall at 3144 S. Wayne Rd.
Oct. 21 – History of Michigan Avenue
7 p.m. – At the Wayne Public Library, Jon Milan and Gail Offen will be presenting about the history of this long-traveled road that runs across the state.
Oct. 23 – Ghost Hunt at the Museum
8 – 11:45p.m. – Join Great Lakes Ghost hunters as they hunt for paranormal activity in the 140-year-old museum building. 1 hour spot is $20.
Dec. 5 – Holiday Night at the Museum
5:30 – 9 p.m. – Come out and see Santa, get cookies and hot chocolate, and join in the Christmas cheer as the town Christmas tree is lit.
*Events are at the museum, 1 Towne Square, Wayne, MI unless otherwise noted*
Victoria's Tea Salon, The Knights of Columbus, Notre Dame Council 3021, and the Wayne DDA are proud to present "Autumn Tea – A Coats for Kids Fundraiser" on Saturday, October 9, at 3:00 p.m. This event will be under a tent in the autumn air, offering you an elegant tea with sweet and savory delights. Through the generosity of Victoria's Tea Salon and the Wayne DDA, all proceeds of this event will go to help the Knights provide warm winter jackets to those within our community who need them most. The price to attend this event is one new child's winter jacket. But registration is required to attend. If you are unable to provide a new winter jacket, you are welcome to donate $25 or more to the Coats for Kids campaign. The Tea menu will be added soon… Space is limited, please sign up soon for this one-of-a-kind experience. The tea will be held at Notre Dame Hall, 3144 S. Wayne Rd, Wayne.
The Daiquiri Shack at US-12, 34824 W. Michigan Ave, is hosting open mic comedy and acoustic sets of Sunday nights. Call (734) 722-3170 for more information.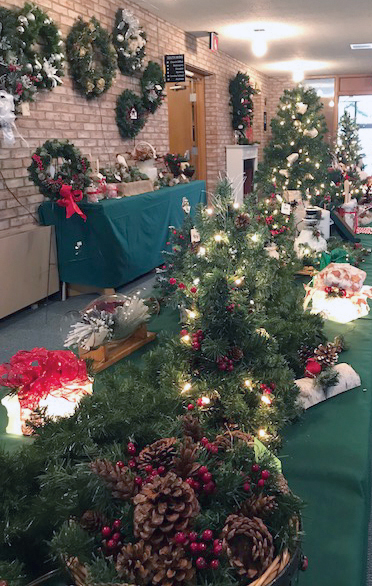 First Congregational Church 74th annual Christmas fair
The First Congregational Church is holding their 74th Christmas Fair at #2 Towne Square in Wayne on Friday, November 5, and Saturday, November 6. Doors will open both days at 9 a.m. and close at 7 p.m. on Friday and 4 p.m. on Saturday. Bring a friend and come get in the Christmas spirit as you shop. As in the past, the booths have included a Christmas Shop, Boutique, Attic Treasures, Aprons, Homemade Candy, Kids Shop, Christmas Village, Antique Dolls and a Raffle. There will also be a Country Store and Kitchen Booth which will be selling favorite foods the church has prepared for lunches and dinners in past years. (Meals will not be
served this year due to COVID.) Mark your calendar and come visit a beautiful Christmas Fair. Start your Christmas shopping early, buy some decorations and find many wonderful homemade specialties and foods. See you at the 74th Congregational Church Fair in Wayne.