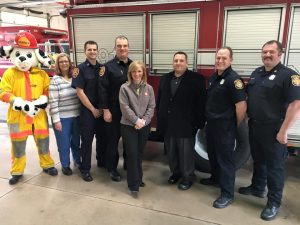 By Carolyn Marnon – What started as a simple request for  monetary donations from businesses that had some type of connection to the Wayne Fire Department to help the department purchase a new Jaws of Life has snowballed into a community fundraising event that will be able to help the Wayne Fire Department purchase additional equipment to replace old and outdated items.
Last November, Captain Fred Gilstorff of the Wayne Fire Department, started trying to raise funds for a new Jaws of Life.  He sent letters out to businesses that the fire department had had dealings with in the past requesting donations.   He also went into businesses when he was available to personally deliver letters. Jaws of Life cost approximately $27,000.
Wayne residents Bernadette Brock and Sammy Willingham heard about the fundraising efforts of Capt. Gilstorff and decided to work together to help raise funds.  They contacted Capt. Gilstorff to ask how they could help. Capt. Gilstorff showed them much of the old equipment the fire department was working with, including the Jaws of Life. Both ladder trucks at Station 5 have the Jaws of Life, but they are over 20 years old.  They don't cut through the stronger alloy that newer vehicles are now made of.
At the time of that meeting, Capt. Gilstorff was still about $7,000 short of being able to purchase the new Jaws of Life.
They started a Go Fund Me account "Jaws of Life for WW Fire Department" about three months ago.  As of April 1, only $180 has been pledged.  Since the crowdfunding route wasn't bringing in a large amount of donations, Sammy and Bernadette had to come up with a new plan.
"Saving Lives is Their Mission, Saving Their Equipment is Ours" was born. With the support of the Wayne Fire Department and City Manager, Lisa Nocerini, Bernadette, her husband Alfred Brock, and Sammy started planning a 2-part bowling fundraiser to be held on Saturday, April 16, at Wayne Bowl, 36900 Michigan Avenue.
From 12:30 p.m. until 2:30 p.m. there will be glow bowling for the kids and families. Tickets are $10 per person for the glow bowl.  There will also be free face painting, a visit from Sparky the Dog, a fire truck displayed outside, raffle prizes and reasonably priced snacks that will include hot dogs, pop and water.  The raffle prizes will be geared toward children during this session and will cost $1-$5.  A bake sale is also planned.  If you are not bowling, you are still welcome to attend the fundraiser and buy raffle tickets and/or snacks and mingle with other community members.
Sammy has said that Wayne Bowl has been very helpful.  They are closing their concession stand during the fundraiser so attendees will purchase snacks from the fundraiser.
From 8:00 p.m. until 11:00 p.m. there will be adult only bowling.  Adult bowling tickets are $15 per person.  There will also be gift baskets, a silent auction and a 50/50 raffle.  There will be food available for purchase.  There are 40 lanes at Wayne Bowl.  Sammy hopes that each lane will have five bowlers so that 200 bowlers can be accommodated.
Among the items being offered as prizes or for auction are a 50" LCD TV, a ride in a fire truck, new bicycles, a day at the State Capitol with Senator Patrick Colbeck, a Keurig K350 Coffee Maker, a bowling ball and a birthday party at Wayne Bowl.  There are many more items that are being donated by community members.
Since the bowling fundraiser was first announced, the Fire Department has received the entire $27,000 in donations they needed to purchase a new Jaws of Life. Capt. Gilstorff ordered the best battery-operated system on the market that includes three tools-a spreader, a ram and a cutter.  It will replace the gasoline powered unit that uses pressurized hydraulic fluid and has cords that can be a tripping hazard.  It is expected to be delivered to the Fire Department the week of April 17th.  The fire department will be able to use the new Jaws of Life to remove the vehicle from the victim and not the victim from the vehicle.
The Jaws of Life may have been purchased, but the Wayne Fire Department has other outdated and worn out equipment that should be replaced.  Saws need to be replaced as do ropes and rigging systems.  EMS supplies like splint kits and a lift-assist tool (that would greatly benefit the backs of the emergency responders) are wanted.  Capt. Gilstorff would like his fire fighters to have updated personal protection items and turn-out gear.  The ones they are using are 8-10 years old and federal guidelines recommend replacing them every 10 years.  They try to wash turn-out gear after fire runs because cancer-causing fibers attach to the clothing.  12 complete sets of turn-out gear would be ideal.  That's another $45,000.  Capt. Gilstorff has applied for a grant through FEMA's Assistance to Firefighters to cover the cost of the turn-out gear and hopes for a reply soon.
The community has stepped up and is helping their fire personnel.  If you can't afford to take the family bowling, you can still bring the kids to see the fire truck and fire fighters and Sparky the Dog.  You could still have lunch or buy a raffle ticket.  Sammy says he wanted to make the daytime event family-friendly and that a family could afford to come to.  Maybe you don't like to bowl but love to talk.  Come out and meet other members of the community.  Don't think that you can't help just because you can't afford to bowl or don't like bowling.  You could bake something for the bake sale. Whatever you want to do, Bernadette and Sammy would love your help. You can contact them through their Facebook page "Saving Lives Is Their Mission, Saving Their Equipment is Our Fundraiser."
You can purchase tickets in advance  at ICON Computer Solutions on Michigan Avenue, JR3's on Wayne Road, and City Hall.  Advance tickets are NOT available at Wayne Bowl.  Tickets will also be available at the event on April 16. Come out and support our fire personnel.  They have done, and continue to do, their very best with the equipment they have.  They shouldn't have to make do using aging equipment in a life or death situation.
If you are not able to come to the fundraising event, 7-Eleven located on Annapolis is also helping to raise funds for fire equipment.  They are selling stars for $1 each.  Donations can also be made by mail to: Attn: Capt. Gilstorff, Wayne Westland Fire Department, 3355 Wayne Rd, Wayne, MI 48184.  Make checks payable to Wayne Westland Public Awareness.