By Carolyn Marnon – You probably pass by the building housing Wayne Family Dental on the corner of Wayne Road and W. Michigan Avenue ever so often.  Get to know the people who operate this fine establishment.
Dr. Bhavani Swarna is the owner and dentist of Wayne Family Dental. Dr. Swarna graduated from Detroit Mercy in 2004 with a Bachelor's degree in Dental Science. She started her own practice in the building that is currently the Urgent Care office on W. Michigan Avenue. It had originally been a dental office, then a neurology office and now she would make it into a dental office again. It had all she needed, since it had once housed a dental clinic. She built up her practice slowly, from scratch (she didn't buy another dental practice) and eventually had to find a bigger space to practice. In 2012, she acquired the former Comcast building. It's a big building, but she is the only dentist here except for some part-time help she has. "I'm happy with the building. We made a good choice." It took over nine months to remodel the building and move in. The ribbon cutting was on December 18, 2012, and Dr. Swarna and her friendly staff have been working at 35102 W. Michigan Avenue since December 20, 2012.
The reason for becoming a dentist was a simple one. It's what her father wanted. He had wanted to go into the medical field when he was young but had been unable to because of finances. It became his dream for his children that they would enter the medical field. Dr. Swarna's brother became a dentist, so she followed in his footsteps.
Dr. Swarna was born and grew up in India. Her parents still live there.  She married Sreeni, her husband, while still in India. They moved to Michigan in 1998 where Sreeni worked for a Livonia business. "I was a bit scared moving to the country (U.S.) leaving the whole family behind. It took me over a year to adjust and understand the culture. I started applying for school and got myself busy. From then it has been an on-going journey, and here I am today," said Dr. Swarna.
"The biggest difference between the dental fields in India and the U.S. has to do with opportunity. In the U.S., there is proactive, comprehensive dental care with insurance to cover most of it. In India, the system is reactive. If there is a problem with your teeth, that's when you go to see the dentist," said Dr. Swarna.
In her free time, Dr. Swarna likes to watch movies of all kinds. She laughingly asks, "What free time?" as she has two kids: Varsha is in the 5th grade and Siri is in 4th grade.  She doesn't like science fiction or action movies, but will watch almost anything else. One of her favorite movies is "Shrek." She also enjoys yoga.
What was it like growing up in India? "Growing up in India, my memories were rich and vivid. I grew up in a time where smart phones were not available. We had more quality time with friends and family. I can't say the same now. In India, we had more family support every step of the way until graduation, even up until I got married.  It was more of a challenge to make wise decisions and stay focused. Now we are here (in the U.S.) with little to no family support."
Dr. Swarna's children are bilingual. They visit their grandparents in India most of the summer and get to spend time with their cousins there.
When Bhavani and Sreeni came to the U.S., they lived in Canton.  After they had their children, they moved to Northville where they currently live.
"One thing I can say having a practice in Wayne is that it's a cute little town. I had a lot of support from my patients. A few of them actually give me emotional support as well," said Dr. Swarna.
Dr. Swarna is very proud of the water treatment in her office. "We make every effort to use the latest infection control and anti-contamination technology. While many offices overlook the potential of infection from the tap water they use, we address this threat with the VistaClear Advanced Water Filtration System, the most advanced dental water treatment system available. The VistaClear system protects patient health and safety by filtering the water used in each treatment room. Our state of the art VistaClear water system is maintained regularly and consists of specialized water treatment components that improve the microbiological quality. Our water meets all water quality goals and standards set by Food and Drug Administration (FDA), Environmental Protection Agency (EPA), Centers for Disease Control and Prevention (CDC), and the American Dental Association (ADA) for use during dental procedures. We also use VistaPure, which provides two grades of high-quality water for autoclaves, ultrasonic cleaners and the rinse cycle of instrument washers. The system connects directly to the city water supply and sends purified water anywhere you need it in the steri-center for easy, on-demand use."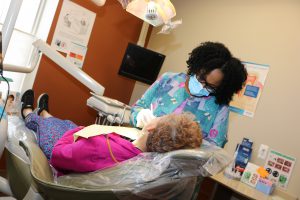 The office also uses digital technology and is a paperless office. By using digital x-rays and digital panoramic/cephalometric, x-ray radiation is reduced up to 90%.
The office is currently taking new patients.  They have convenient hours, including Saturday hours from 8:00 a.m. to 2:00 p.m.  They take all PPO insurances. They do not take Medicaid as the reimbursement from Medicaid does not cover the costs of the equipment, supplies and other expenses of the care.
Wayne Family Dental provides an In-Office Dental Plan designed for the uninsured to help them receive affordable dental care.
Contact the office at (734) 728-8800 for more information on how they can help you.