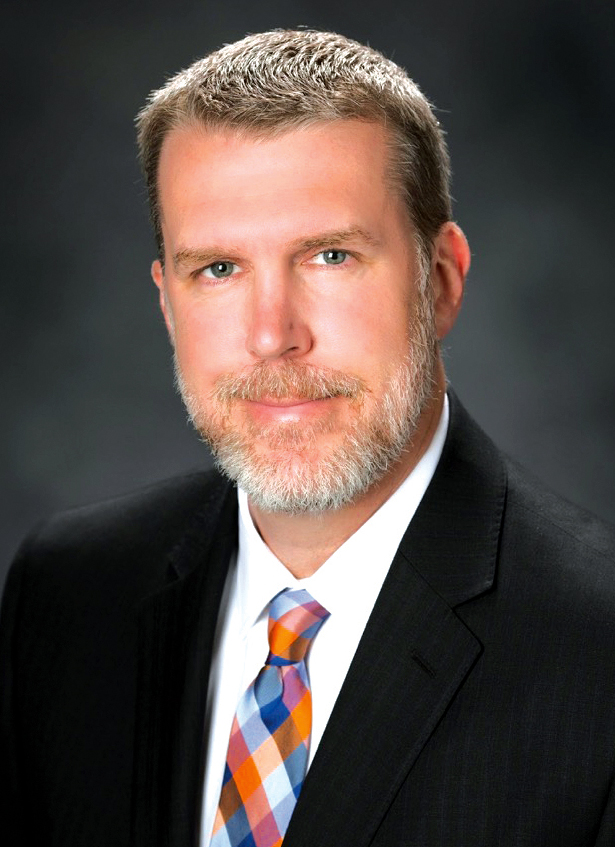 By Carolyn Marnon – Wanting to recognize students who make positive contributions to the school community, Wayne Memorial High School's new Principal, James Anderson, Ed.D., answered a few questions about himself, his background in education and what he is striving towards for the students and staff of WMHS.
Tell us a little about yourself.
Where to start? I was born in Saginaw, Michigan and moved to Longmont, Colorado when I was 2. We lived there for about 8 years before returning to Saginaw where I finished school. I then attended Western Michigan University where I got my bachelors degree in Elementary Education. I went on to get my Masters from Michigan State University and my Doctorate from the University of Michigan Dearborn.
I am married and have 3 children. My son is a senior at Central Michigan University, my oldest daughter is a senior at Farmington High School, and my youngest daughter is a sophomore at the same school.
Some of my hobbies include fishing and jeeps.
How did you hear about this position and why did you want to apply for it?
I heard about the position through a friend and the timing was right for a change. I actually applied for another position in the district to start, but the district and I both liked the possible fit for this position. I enjoy working with high school students, so I am excited to be a Zebra!
What have you determined to be your top 3 goals/strategies for your first year at WMHS?
My top three goals all build on the strong foundation Mr. Weber (built) over his time at WMHS. I want to increase student engagement in classrooms.
I want to reduce tardiness, absences, and truancy, which is a direct result of the first goal. A third goal is to build systems to recognize those students who do the right things day in and day out; they need to be the students who get the focus at Wayne Memorial.
What qualities do you think makes an effective high school principal?
Principals make a lot of decisions in a given day. I believe some of the things that make the most effective principals are the ability to listen, to reflect, and to make tough decisions. Effective principals are also visible and present, so they need to spend a lot of time in the role both during the school day and at after school events.
What qualities do you think teachers should have in a high school setting?
I believe that teachers need to be engaging and relationship focused. I believe the old saying is true, "A student does not care about what you know until they know that you care." It is one of the strongest parts of Wayne Memorial and one of the reasons I love working here so much.
What is your background in education?
I have been in education for 20 years. I started as a 5th grade teacher in Benton Harbor. I then moved to Farmington Public Schools as an 8th grade science teacher. At 27, I was moved to the assistant principal position in the same middle school. I have also served as an upper elementary principal and high school principal respectively. I have been an administrator for 16 years.
How do you connect with students?
I work to be visible in the hallways and the lunchroom and look to make connections whenever possible. One of my first experiences in the role was driving out to Howell Nature Center this summer to spend time with our student senate. Sometimes I get to know students when we reflect on poor choices, but I prefer to get to know them by recognizing their positive contributions to the school community.

What is the day of a principal like?
It is never the same. It is one of the pieces I love about it. Every day is different, but all days are busy.
Why did you choose a career in education?
I started out only wanting to teach. I worked with an elementary school when I was in a high school psychology class and got the bug. I became an administrator to help the broader community. I am passionate about working to improve schools.
How are you building a positive school culture with students and staff?
While we work on tardiness, truancy, and the occasional behavioral issue, I want to focus on positives as well. We are looking at ideas to create incentives for positive behavior and to reward those students who do the right thing day after day. We also look for opportunities to let the kids have fun. This past Halloween we allowed costumes for students and staff. It was the quietest day in the office this year and people really enjoyed it. I would like to find more opportunities like that in the future.
What have you found to be the biggest challenge at WMHS and how did you/or how do you intend to meet that challenge?
I would say truancy is the biggest issue. Even then, it is a small percentage of our overall population. We will work with the county on the most troublesome cases and will handle the other ones in the building. Students need to be in class to be successful, so we are taking a hard stance on attendance.
What has been your greatest joy as a principal/educator?
My greatest joy is watching students succeed at something they love. Sometimes that happens in athletics, other times on a performance stage. I also get great joy out of watching students succeed academically, because it will open doors to a positive future.
Can you give me 5 interesting facts about yourself to share with the community?
5? Yikes!
Of my three kids, one is my stepson, one is adopted from Russia, and one came to us the "old- fashioned" way. You wouldn't know it to look at them. Every family story is unique.
We have a 65-pound black labrador and a 4-pound white Moorkie (Yorkshire/Maltese mix). They are an odd pairing.
I didn't get into Michigan when I was 18, but I returned 20 years later to complete my doctorate. Goals sometimes take longer to complete, but you can if you keep working.
I dislike bananas very much (I won't say hate, but it fits).
Someday far off in the future after I retire, I would like to spend more time in the mountains, like I did when I was young.