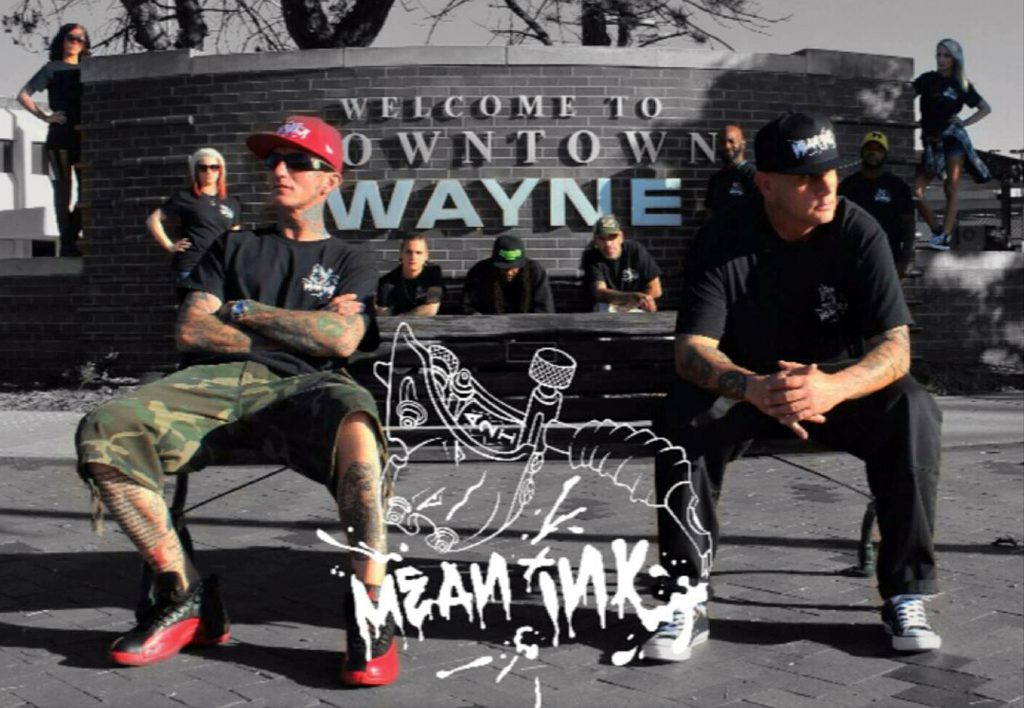 By Carolyn Marnon – A certain block on W. Michigan Avenue is a little brighter since Mean Ink opened their doors last October. Located at 35128 W. Michigan Avenue, you will see this once-vacant building lit up at night, displays in the windows and an array of people hanging around outside the doors while they wait to be worked on.
Dan Wagner and Steve Griffin are the co-owners of this new business; they already have a steady stream of customers through their doors. Dan is a tattoo artist while Steve is the man behind Sick Sense, a line of clothing that is sold at Mean Ink. They both own Mean Ink while the clothing line is owned solely by Steve.
Sick Sense
Steve started designing Sick Sense in April 2011. He sold his creations out of the trunk of his car and through Facebook.  He said people gravitated toward his logo which looks much like a grumpy ping pong ball.
Born and raised in Ypsilanti, Steve started designing shirts that just said Ypsi on them. They were so popular that others started asking why he didn't make them with other cities on them. Steve branched out and did a shirt with Detroit on it.  From there, his business grew even more, leading him to start selling shirts with other cities on them. The shirts had "Explicit Content" written on them, such as you would find on a music CD package which warns parents about what might be on the CD.
Tattoo artist
Dan started playing around tattooing with needle and thread when he was about 17. He couldn't get equipment at that time because you had to own a shop or be an apprentice to purchase it. When he was about 23, he was finally able to get some equipment. At 24, he started selling his tattooing services.  Because he was working a landscape job, things were slow during the winter. This allowed time for him to do 80-90 tattoos. From there, a friend was able to get him into a tattoo shop in Monroe where he worked full time learning shop etiquette.  He went on his own for awhile before working at another shop in Dundee.  Prior to the opening of Mean Ink, he was back to working out of his home. He's self-taught and has never apprenticed.  After being raised in Texas and living in both Wayne and Westland, Dan graduated from John Glenn High School.
Coming together
Four years ago, the duo met. A mutual friend had a limo bus that ended up taking both of them to a concert. They didn't have any interaction during that first encounter, but Steve says he thought to himself "look at the dude with the tattoos all over his f—— face."  At a later date, a friend had a party at Skateland West with music and merchandise booths. The guys call them "merch booths," and they both had them at the event.  After this, they started seeing each other more, started hanging out and going to concerts and on vacations together. This led them down the path to opening their business together.
"Let's get a store and try to open in Wayne," said Dan. Dan and Steve tried to look at another building in Wayne, but the owner couldn't meet with them very quickly. Property owner Kelly Eggers and his real estate agent were able to meet with the guys within an hour and go over the property for lease. They came to an agreement, and a new business on Michigan Avenue was soon to open. Spaces were constructed for the various tattoo artists to work from. The health department came out to do their inspections. Dan is very pleased with being in the middle of downtown Wayne in a beautiful location and that Mean Ink is the first tattoo shop in Wayne.
4-5 years ago, Dan had tried to open a tattoo shop in Wayne near Dairy Queen on Wayne Rd. He said Ann Arbor and Plymouth have tattoo shops, why not Wayne? There was an ordinance at that time that stated if there were residents within so many feet of the proposed business, Dan would have to get a certain number of signatures of residents that were not against the business opening nearby. There were too many obstacles to overcome with the property owner and the city so nothing came of his aspirations.
Both Steve and Dan are very talkative and enthusiastic about their business. When asked what exactly you would call a person who does the tattooing, the duo chimed out with tattoo artist, therapist, doctor, problem solver.
The Sick Sense clothing line seems never-ending. There are bandanas, hats, tank tops, leggings, sweat pants, swim trunks and items for babies and toddlers.  Sizes range from XS to 6X. T-shirts range in price from $23.99-$28.99 while hoodies are $35.99-$39.99. "No matter how big or small you are, there is something hanging on that wall for you," says Steve, referring to the long wall that runs over half the length of the store.
There are six tattoo artists currently at Mean Ink-Andrew, Dr. Phil, Big Tone, Lane, Chris and of course, Dan. There is also a female piercer.  These artists subcontract a space to do their work in.  Before Dan and Steve rent them space, they check out the artist's work and make sure they have a solid clientele.  If the artist doesn't have regular clientele, they aren't likely to be able to pay for their space.
Mean Ink has not had to pay for any advertising.  Much of their business comes from Facebook and word-of-mouth.  The artists all have good followings of clients.
Walk-ins are welcome at Mean Ink.  If you have never had a tattoo before, they will consult with you and try to get to know you. There are photo albums in the lobby where you can check out each artist's work.  After discussing what you might like, they will design a tattoo for you to approve. How long it takes to get the tattoo done depends on you and your ability to not "tap out." It could be half an hour or up to 15 hours.  Tapping out means you can't take any more of the pain and need to end the session. You would then come back later for another session to work on the tattoo again.  Tattoos typically take about two weeks to heal.
While I was at the shop, I met Kevin Wellner of Westland. When the shop opened in October, Kevin was in getting tattooed every day. Someone asked if he was doing a 30 day challenge; that's how the 30 day challenge came to life and he decided to get a tattoo every day for 30 days. They call him the 30 Day Challenge. Although he already had tattoos, he rolled up his pant legs and told me he had had nothing on his legs prior to the challenge. His legs are now covered.  He decided to let each of the artists that were at the shop during those 30 days work on him. The artwork on his body is also unique in that his right side is all color tattoos while his left side is all black and white.  He said most of the art is religious or based on his personality. He estimates 25-30 people have tatted on him. "These people are family."
Mean Ink is open Tuesday-Saturday, noon-10:00 p.m. and Sunday, noon-6:00 p.m.  It is closed on Monday. Watch for the grand opening in the spring. Steve says Sick Sense has new releases weekly. "Come check us out."  If you mention this article when you visit, you can save 15% off the cost of anything, including clothing and tattoos.