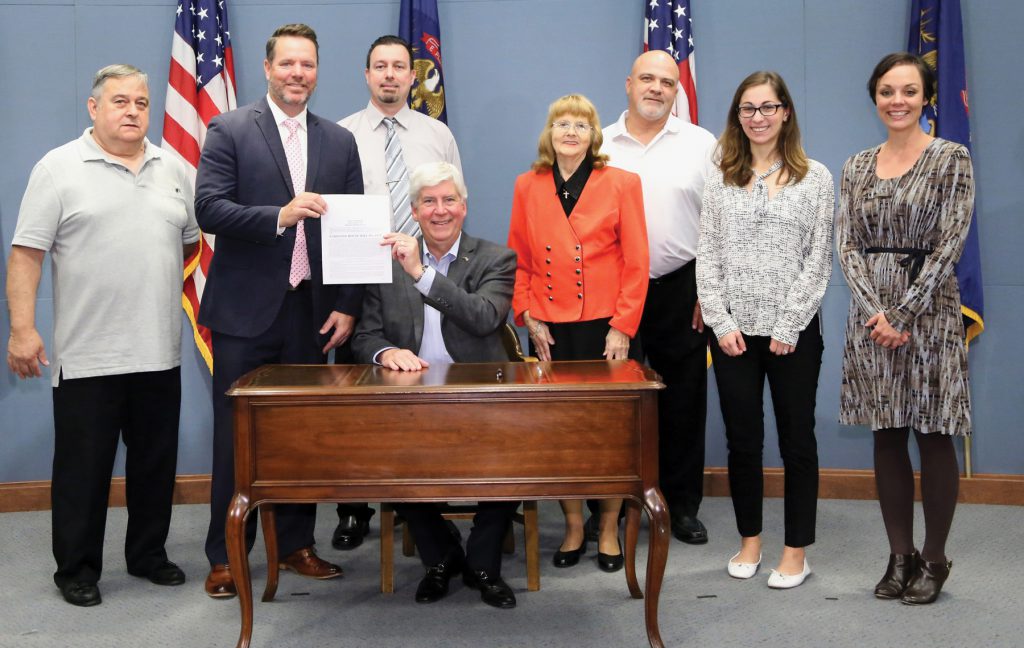 Pictured left to right: Vern Amos, Rep. Robert Kosowski, Brian Ewanciw, Kathy Rockwell, Chris Miller, Marina Carabellese (staff), and Renee Hermanowski (staff).
Seated: Governor Rick Snyder.By Carolyn Marnon – When Brian Ewanciw, owner of Icon Computers and Wayne Bicycle Shop, started the Wayne Neighborhood Watch Patrol several years ago, it was based on Garden City's patrol group. Garden City's neighborhood patrol group had been using flashing yellow lights for years.
When it was brought up to Wayne's police chief, Brian said, the chief denied the use of the amber lights in the City of Wayne. "That sent me looking for a way to change the law, not just for Wayne, but the state of Michigan" says Brian. "Councilman Rhaesa helped put me in touch with State Rep. Robert Kosowski. I proposed an amendment to the law, and he (Kosowski) said he would look into it. He messaged me back and let me know he thought it was a good idea and would submit a bill. It passed the house unanimously and moved on to committee and then Senate."
Brian joined State Rep Robert Kosowski in Lansing recently, along with Wayne residents and WNWP members Vern Amos, Kathy Rockwell and Chris Miller. They had pictures taken with Governor Rick Snyder while he signed House Bill 4176.
"With the use of the amber flashing light, I believe it will help identify us to residents when we are out patrolling, but it will also let would-be criminals know we are out there, we are watching and we are the eyes and ears for the Wayne PD. It really is a win-win for the residents of not just Wayne but the State of Michigan," says Brian.
The law now reads in the Michigan Compiled Laws (MCL) for Section 257.698(5)(l):
A vehicle used as part of a neighborhood watch program may be equipped with flashing, rotating, or oscillating amber lights, if the vehicle is clearly identified as a neighborhood watch vehicle and the neighborhood watch program is working in cooperation with local law enforcement. The lights described in this subdivision shall not be activated when the vehicle is not being used to perform neighborhood watch program duties.
When you look out your window and see the amber lights flashing as a vehicle drives down your street, you can know that the Wayne Neighborhood Watch Patrol is doing it's best to deter crime in your neighborhood.