By Carolyn Marnon – Crystal Murphy was homeless with two young sons. She had been living with her dad until he lost the trailer they were living in. They had nowhere to go. They went from house to house, staying with people they knew. They eventually ended up in Toledo, Ohio. Crystal was about 20 years old. But let's go back a few years.
Born and raised in Wayne, Crystal's dad spent 30 years working for Mark Wayne Motors on Michigan Avenue.  Her mother had dropped her off on her dad's porch when Crystal was just 14 years old. Crystal says her mother couldn't handle having a kid anymore. She attended both John Glenn and Wayne Memorial high schools before dropping out at the age of 15 due to bullying she experienced at WMHS. She got her GED at 16 and got her first job working the drive-thru window at McDonald's. She was there about six months before discovering she was pregnant.
After she had her son, she started working at a nursing home.  "I was taking care of the elderly. Cleaning beds, showers, feeding. I was enrolled online for nursing assistant. My son was about 6 months old at that time. I ultimately dropped my online classes. I couldn't keep up with the work and raise him. It takes a special person to be able to handle working in a nursing home. I had just lost my grandmother a year before and I was just too emotional to do the job."
Crystal started working in pizza restaurants. Her first pizza joint was Sammy's Pizza at Telegraph and Joy which she says is now closed.  Her experience expanded to include "Papa Romano's, Jets, Howies and Cottage Inn. Domino's is where I spent most of my time. Domino's is where I was a manager and general manager of a couple locations. I could write a whole story on my pizza life," she laughs.
Now back to the time she was homeless and staying in Toledo. Crystal would drive everyday from Toledo to a hotel next to I-275 in Canton where she would clean rooms from 7:00 a.m. until 4:00 p.m. She then had an hour to herself as she made her way to Dearborn Heights to her second job as a driver for Jet's Pizza from 5:00 p.m. to midnight. After that shift, she'd drive back to Toledo, get some sleep, and wake up a few hours later to start her 2-job workday all over again.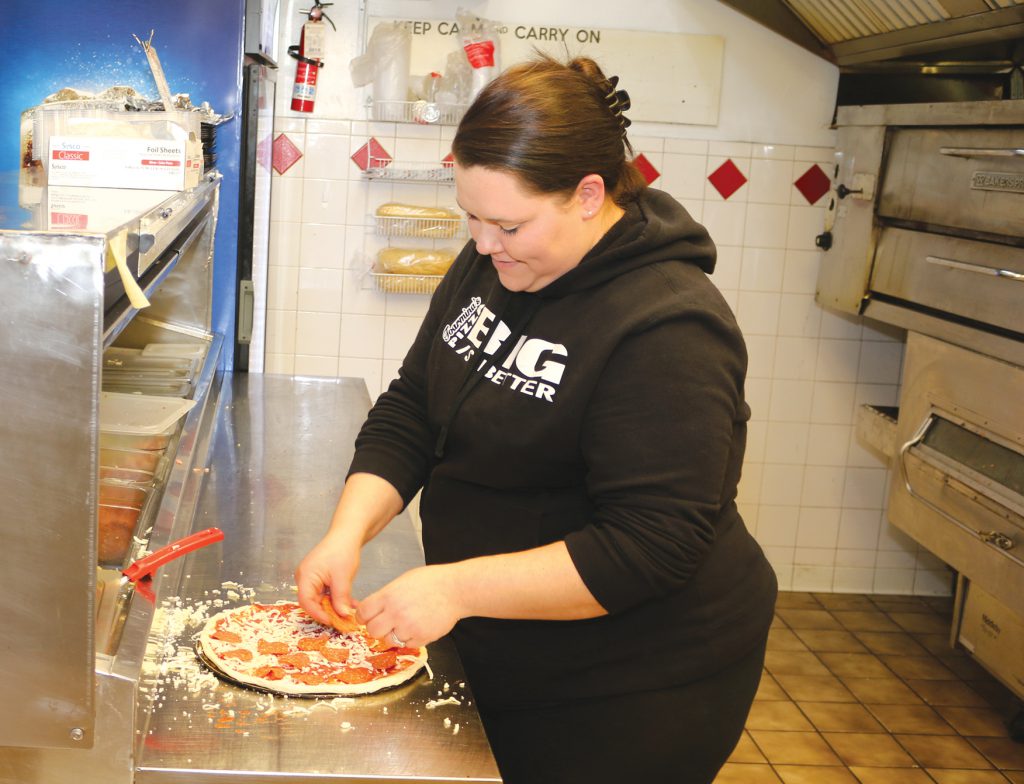 For three months, this was her routine. "I was exhausted, I never saw my boys anymore. I was only working to keep gas in my car and buy food and diapers on a daily basis. Just enough to survive the day. I knew we couldn't keep living like that and a friend let me stay in their basement so I could get my head above water."
Crystal worked at Burger King on Wayne Rd. and Plymouth while living in the basement. "That was able to provide us enough money to afford my 1-bedroom apartment. From there I started working for Domino's on Wayne Road and Michigan Ave in 2013 as a driver. That was the real turning point for us. I was able to afford a small 2-bedroom apartment and pay my bill's every month. But again, we were just surviving not really living."
Three years ago, she became the General Manager at one of the Domino's locations that was about a 45-minute drive from her home. The time she was gone and the gas she used on her commute were not worth it for her. She was able to get a GM position at another location, but she says "I was over worked, understaffed and poorly paid. Many nights I was alone to handle the rush and would have my fiancé come in to help me because they needed to watch their labor. They refused to give me the help I needed. It started to take a toll on my health. I had developed a twitch in my eye from the stress. That's when I started looking for something else."
Done with pizza and wanting a different lifestyle where she could enjoy her life and her kids, Crystal was able to get a position at Wayne Westland Federal Credit Union. She says she spent 9-10 hours per day sitting behind a desk making loan applications with clients who were trying to open their own businesses. While working there, she met Lou Toarmina. It was there that he approached her about buying into a store. At the time, it cost about $20,000-$30,000; money Crystal didn't have. A year later, she saw an ad on the Toarmina's website about a manage-to-own program that required no money down. She reached out to Lou who remembered who she was and the seed was planted.
Crystal liked being up, moving around and interacting with people on a more consistent basis. She realized the credit union job was not for her. She was able to get a job as a driver for Domino's in Taylor, working 3-4 days a week just to keep some money coming in. "My fiancé worked harder to support us during that time. He supported my decision." She says he motivated her to move into management positions and reach higher.
After spending over 10 years in the pizza industry gaining experience, from delivery driver to manager to general manager at various pizza restaurants, an incredible opportunity presented itself to Crystal.
Last July, Crystal entered a manage-to-own program with Toarmina's Pizza. With no down payment, she started managing the Toarmina's location on Wayne Rd in Westland. After three months as manager while she and Lou Toarmina were determining if this was a good fit for the business, she signed the paperwork in early October to become the store's new owner. She's now hoping her sons, now 10 and 8, will one day take over from her. "I want to secure a future for them." She goes on to say, "I never thought I would make a career out of it."
Toarmina's Pizza is a Michigan-based company whose claim to fame is the 24-inch pizza where each slice is a foot long. The Toarmina family originally owned the location she is now at. It later switched hands numerous times over the years as different owners ran the restaurant poorly thinking it would run itself, says Crystal. She's determined to change all that.
"I'm making it the way the Toarmina's originally intended it to be," Crystal says. She is working 5-6 days, 40-50 hours per week to make sure of that. She has had to retrain the employees on making the food. She has hired new people where the focus is on the product and how to make it properly. She's been quiet on the advertising front as the quality was being reworked. Now that the pizza is up to the original Toarmina's standards, she is promoting the restaurant and offering specials, mostly through the facebook page "Toarmina's 1311 S. Wayne Rd"
Loving that Toarmina's is a family-run and operated business, a small mom and pop-type restaurant that is not corporate, where she knows all the other owners and that she can contact Lou Toarmina whenever she needs to, are major plusses for Crystal. Ultimately, she would like to move her business to Wayne. "Wayne is a way of life," she says. "Everyone we know is in Wayne." However, that dream is not in the near future. Until then, Crystal wants everyone to know "there is a new owner/operator here" who cares about the community. "I'm not just another business owner. I don't plan on going anywhere else soon."
To everyone who is having or has had a rough time in their life, she advises them not to give up. "Keep going. There's a light at the end of the tunnel.  Anything is possible.
"I was a single mom and I relied heavily on my dad and my sons' other grandparents to watch my kids. Their dad was never in the picture. I just made it work until I met my fiancé and he helped me a lot.
"I wouldn't be the person I am today if it wasn't for the people helping me along the way. Many friends helped me watch my kids while I worked or just were there when I needed someone. I owe everything to them because without them who knows where I would be? It takes a village to raise a child."