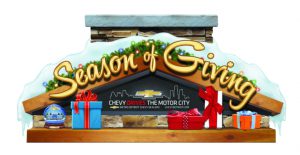 By Carolyn Marnon – You can help a kid choose a toy from the bottomless toy chest.
Mark Chevrolet, 33200 Michigan Ave, is kicking off a Season of Giving on Wednesday, November 16.  They will be collecting toys in the back of a Silverado in their showroom to support Bottomless Toy Chest, a 501(c)(3) non-profit organization in Troy that is devoted to delivering art projects, crafts and interactive games to hospitalized pediatric cancer patients.
This year, Bottomless Toy Chest will deliver over 30,000 toys and activities. Each item they present is brand new, gift-wrapped in cellophane and ribbon and hand-delivered to a patient. The clear gift-wrap keeps the items clean and safe for children with weakened immune systems, gives them a choice in an environment where they have no choices, and gives children who are under massive physical and emotional distress the joyful experience of opening a present.
See the wish list that accompanies this article.  See if anything tugs at your heart as something your inner kid might have liked to have received and consider getting and donating that item.  All items must be new due to health issues a child may be facing.
According to Ashley Leslie, Program Director for Bottomless Toy Chest, they are most "in need of items for teen boys and girls. Amazon cards, sports apparel, Nerf basketball hoops and footballs.  Art kits and jewelry making kits are all extremely popular at the hospitals, and we are running low on these items. For our younger kids we are in need of tool kits, rattles and ethnic baby dolls/Barbies."
If you like to shop, this is an ideal way to shop, help others and not have to find a place for it in your home!  If you are not able to shop or would just like to help, Mark Chevrolet will accept cash donations with which they will go out and buy the toys.
Those people who are in the market to purchase a vehicle will get an extra surprise during the Season of Giving that runs November 16-December 2.  Mark Chevrolet will be handing out a gift card from Visa, Target or Starbucks to people who purchase a vehicle during the campaign.
Showroom hours to drop off donations are Monday and Thursday 7:30 a.m. – 9:00 p.m; Tuesday, Wednesday and Thursday 7:30 a.m.-6:00 p.m. and Saturday 8:00 a.m.-1:00 p.m.
The campaign ends on Friday, December 2. To avoid any last minute crowds that might show up at the dealership, shop and donate early.  This also gives you plenty of time to browse the vehicles available for the next time you are in the market for a new one. If you would like to learn more about Bottomless Toy Chest, their website is www.bottomlesstoychest.org.
WISH LIST TOYS
(MUST BE NEW!)
• Mr and Mrs Potato Head
• Play-Doh Activity Kits
• Infant and Toddler sight and
sound activities
• Ethnically diverse Barbie and baby doll
• Art kits and drawing pads
• Super hero action figures
• Popular movie themed toys
• Building sets, play sets
• Tool kits
• Lego's (all ages)
• Matchbox cars
• Jewelry making kits
• Hats, gloves, scarves, fleece, etc
• Male and female logo wear
(MSU, UM, Lions, Tigers,
Pistons, Red Wings)
• Crafts for teen girls
• Nice journals and pens
• Soft and cozy blankets
• Remote control vehicles
• Gift cards   (iTunes, Amazon, Xbox)