By Carolyn Marnon – Wander the Hispanic food aisle at Fresh Choice Food Center, and you will come across products made by Tortillas Tita, a small business located in an office/industrial area off Michigan Ave. Founded by husband and wife Martha Jaramillo and Francisco Alvarez, the business is slowly growing. They had to move from their original location in Westland for one with more space in Wayne.
Martha and Francisco were both born in Mexico. They met in college and moved to the United States when Francisco was sent to Toledo by his employer in the auto industry. He says it was challenging, but it eventually led to a job with Ford Motor Company where he now works full-time while helping Martha part-time with the family business.
While living in Toledo, Martha would have to drive to Detroit to get authentic tortillas. Francisco says Mexicans eat tortillas like Americans eat bread. Later, Martha was attending Eastern Michigan University for her Master of Business Administration (MBA). In a class where students studied business cases, there was an assignment given to put together a business plan. Martha chose to write up a plan for running a tortilla shop. Francisco helped her write up the areas about engineering and the manufacturing process since he had that background from his jobs in the auto industry.
Nothing came of the plan until about July 2010 after Martha had received her MBA and was looking for a job. Francisco recalled the business plan and suggested they open a tortilla shop. They further developed the original plan, and Tortillas Tita was born. Tita was a nickname Martha had in Mexico.
Francisco's side of the family comes from Central Mexico. They owned mills and made their own corn meal. His grandmother made a living by making tortillas in-house by hand. The recipe they use at Tortillas Tita to make their tortillas is an adaptation of his grandmother's recipe using corn meal that is available in the U.S.
The business produces corn tortillas, flour tortillas, chips and tostadas. These products can be found in approximately 100 stores and restaurants in the area. Martha handles the merchandising side of the business and has accounts with Fresh Choice Food Center in Wayne, several in Westland (Heartland, La Tiendita Mexican Market and Dos Hermanos Market), several in Canton (Holiday Market and Busch's) along with Honeybee Market, Plum Markets and Vince & Joe's. All carry the tortillas while only a couple sell the chips.
The couple is working on increasing the capacity of their manufacturing process. They arrive before 4:00 a.m. to start mixing the dough and running the tortillas through the machines. The machines cut, bake and cool the tortillas as they travel down the line. They are packaged by hand. Over the summer, they were able to get help from some high school students. They manufacture the tortillas and chips until 11:00 a.m. at which time Martha takes off to deliver products, set up displays and find new sales outlets. Francisco heads off to his full-time job in Livonia.
The challenge for Tortillas Tita is being able to make enough product that Martha can sell, especially with the chips. They are looking for ways they can expand that process to make more. In the meantime, the chips are only in a few stores because not enough can be made to keep in stock if they tried to expand to more stores at this time. It's important to Francisco and Martha that they don't overpromise what they can't deliver.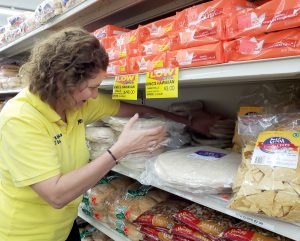 Honesty is important to Martha and Francisco. "I want to be welcomed when I come to the stores," says Martha. "I don't want to push anyone out of the way." Stores can sometimes have bad transactions with suppliers and don't trust those suppliers when they come in with their products. This is something Martha works hard at to avoid. They believe the values they set in their company translate into whether the community will trust them.
With ownership of their small business, they have learned several things. Martha has learned to be persistent, consistent and self-disciplined. Francisco says teamwork is the main thing he has learned. Working with suppliers and customers is important because, he says, "sometimes it's easy to get into your own world."
Francisco and Martha express gratitude to Wayne City Clerk Matt Miller, whom they knew from attending St. Mary's. Matt took the time to help them and "that was a big reason we ended up here (in Wayne). I appreciate how much work he put into getting us into this town," says Francisco. Having outgrown the location they started with in Westland, they have been in Wayne since 2013.
Francisco jokes, "We can do Uber if we want to give up." He goes on to say, however, "You're commitment has to be more than 100% if you want to succeed." With a mission to "produce and market the best Hispanic products to fully satisfy critical customers in search of authentic flavor while delivering part of the rich Mexican cultural background" and by taking measured steps in their growth, it is hopeful they will continue to be successful.
In honor of National Hispanic Heritage Month in the United States, which starts on September 15 and runs through October 15, the quick and easy recipe for a festive dinner below is shared on www.tortillastita.com
Cheese Enchiladas
Serves 4
Ingredients
• 12 Tortillas Tita shells
• 1 can of enchilada sauce (either red or green peppers)
• 4 cups of shredded mozzarella or chihuahua cheese
• 1/2 cup of chopped onions
• Nonstick spray
Instructions
1. Mix cheese with chopped onion.
2. Warm tortillas on any pan or comal, keep them warm on foil or towel.
3. Serve enchilada sauce on a bowl big enough to wet tortilla for both sides. Use nonstick spray or oil on an oven pan and add a tablespoon of enchilada sauce.
4. Get first tortilla wet with the enchilada sauce on both sides, set on the oven pan and fill with cheese mix, bend tortilla on half or roll. Keep doing the same with the rest of the tortillas. Spread cheese on top when finished and warm dish until cheese is melted. Serve immediately.
NOTE: A comal is a smooth, flat griddle that is typically used in Mexico to cook tortillas.