By Courtney Conover – One chance encounter has the power to change everything.
The Wayne Rotary experienced this principle firsthand. In fact, the story of this club's establishment is so serendipitous that one might find it unbelievable if it weren't true…
It all started in the fall of 1919 when a select group of Wayne businessmen were invited to a meeting held over dinner at the city's original Roosevelt School. What evolved from that meeting would come to be known as the Wayne Noon Lunch Club, a civic group of approximately 25 men who—from the very beginning—had the intentions of improving Wayne. The first of their many efforts would be the construction of a swimming pool located in the vicinity of where Wayne Memorial High School sits today.
And here's something else the men did right off the bat: They set their sights on one day becoming a Rotary Club. And they did everything by the book to ensure that it would eventually happen, including adhering to Rotary International rules while conducting their meetings. Finally, the men applied for Rotary membership.
And this is precisely where the chance encounter comes into play.
The next year—in 1920—a man by the name of Allen Alberts spoke at a chautauqua here in Wayne. (If you're not familiar with the word chautauqua, no need to google it; it's an annual educational meeting.) Additionally, Alberts was invited to break bread with members of the Wayne Noon Lunch Club.
Alberts was quite impressed by the club, and this is particularly relevant because he was no ordinary guy—it's worth noting that Alberts was a former president of Rotary International.
And Alberts felt that the Wayne Noon Lunch Club should indeed become a Rotary Club.
But there was just one problem: Towns like Wayne with a population of less than five thousand weren't eligible.
What appeared to have been a major roadblock, however, was nothing of the sort as far as Alberts was concerned: He was scheduled to attend the next Rotary International convention in Edinburgh, Scotland, and would offer a resolution to change that pesky population rule.
And so, Alberts attended the 1921 convention, presented his resolution, and in January 1922, the Wayne Rotary Club became the first club in a town with a population of less than five thousand.
The rest is history.
Really remarkable history.
Today, Rotary International is a humanitarian service organization of business and professional leaders who provide community service, promote integrity, and advance goodwill, peace, and understanding in the world. Membership into this organization, which is non-political and non-religious, is by invitation and based on various social factors.
According to the Rotary International website, this organization connects 1.4 million members worldwide, clocks approximately 47 million volunteer hours each year, and funded $333 million worth of sustainable projects—just in 2021 alone.
And if one needed further proof of Rotary's rightful place on the world's stage, there's this: Rotary is the only non-governmental organization with a seat in the United Nations. In fact, Rotary and the United Nations have a shared history of working toward peace and addressing humanitarian issues around the world, and every year the United Nations hosts Rotary Day at the United Nations during which the organization's vision for peace is celebrated and highlighted.
Rotary International has seven primary areas of focus: to promote peace, provide clean water, sanitation, and hygiene, save mothers and children, support education, grow local economies, protect the environment, and fight disease–most notably, polio. Rotary has been working for many years to end polio disease in the world. Polio, or poliomyelitis, is a paralyzing and potentially deadly infectious disease that most commonly affects children under the age of five. The virus spreads from person to person, typically through contaminated water, and can then attack the nervous system. As a founding partner of the Global Polio Eradication Initiative, Rotary has reduced polio cases by 99.9 percent since its first project to vaccinate children in the Philippines in 1979.
This year, Wayne Rotary celebrates 100 years of service.
And, in keeping with Rotary International, Wayne Rotary has taken action to bring about change right here at home.
For starters, the strides Wayne Rotary has made to improve literacy in this area are unparalleled. This is due in part to the synergy between Wayne Rotary and the Wayne Public Library, particularly in the mid-1990s, when Lois VanStipdonk served as a bridge between the two. She was both a member of Wayne Rotary and the director of the library at the time.
That relationship continues today.
"We have a speaker at every one of our meetings, and a book that relates to the talk given by the speaker is selected by the Wayne Public Library," explains John VanStipdonk, husband of Lois, who is also a Wayne Rotarian. "That book is then signed with a book plate and is then put into circulation at the library. We've been doing this since 2002."
To date, the Wayne Public Library has benefitted from the addition of over 900 books—just from this activity alone. Additionally, Wayne Rotary makes a sizable donation to the Wayne Public Library's literacy programs each year.
And Wayne Rotary's mission to create bookworms of us all doesn't end there.
Another Wayne Rotarian, the late Nate Weiser, who served as the president of the Wayne Rotary in 1963, was also a staunch supporter of literacy.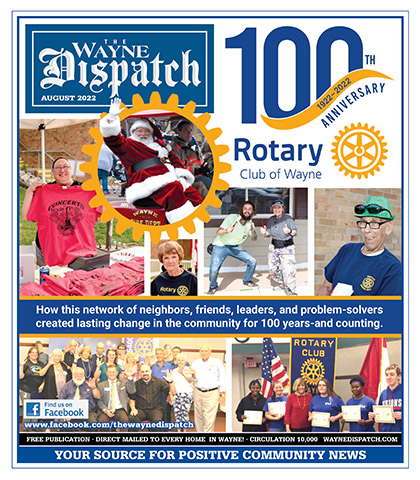 "At the age of 88, he approached the Wayne Rotary board of directors about an effort he saw in Sacramento, California, in which third graders were given hardbound copies of dictionaries by their local Rotary Club," recalls VanStipdonk, 80. "And Nate thought we should be doing the same thing."
One thing led to another, and Wayne Rotary eventually partnered with the club in Sacramento. The Wayne Rotary's third grade dictionary program is a tradition that is still in effect today.
"Before COVID, we would go into the classroom, tell the kids about why they're getting a dictionary, who we are as Rotarians, and give them a dictionary for them to use as their own personal copy," says VanStipdonk, who, with his wife Lois, has three adult sons and eight grandchildren. "So, you can see the thread of our focus over the last 20 years really has been toward literacy."
But that's far from the extent of Wayne Rotary's philanthropy. And with this being a centennial year, the club's 34 members have really kicked it up a notch.
Wayne Rotary President Carol Bevard, 67, has been spearheading a bevy of Rotary-led efforts here in the City of Wayne—one event each month, to be exact—in celebration of Rotary's 100th anniversary. Some activities are aimed at beautifying the city, others at improving the quality of life for residents, but all have been infused with a healthy dose of fun and teamwork.
Bevard, who served in the U.S. Navy and was the first female loadmaster in squadron VR-21 in Barber's Point, Hawaii, says that each act of giving is in keeping with Rotary's motto of "Service above self" and emphasizes Rotary's presence in the Wayne community.
"We wanted people to visibly see us doing things so they would know we are here," says Bevard, a resident of Wayne since 1978.
And, boy, have Rotary been busy.
Wayne Rotary's commemorative events thus far include sponsoring a "Boredom Busters" program at the Wayne Public Library in March, which provided approximately 100 local elementary-aged kids with cool books and activity kits, partnering with Wayne Ripple Effect to conduct a city-wide cleanup—the seventh annual, in fact—in April (in coordination with Earth Day), and hosting a "Free Ice Cream Cone Day" at the Wayne Dairy Queen in May. And for the club's June project, Wayne Rotarians, painted Veterans Haven.
As for this month's activity?
It rocks—literally.
After a two-year hiatus, the City of Wayne's annual Concerts in Goudy Park series returns to downtown Wayne's Goudy Park Amphitheater. The free series, which is held every Wednesday in August at 7:30 p.m., boasts a wide variety of popular bands, including Live Bullet Detroit, Mainstreet Soul, and 50 Amp Fuse, to name a few.
And should you attend and take in a performance or two, you'll have an opportunity to support Wayne Rotary in the process. While the bands are paid for entirely through sponsorships (and not tax dollars), the purchase of beer supports the Wayne Rotary.
This summer's concert series marks the thirteenth for the City of Wayne, but Wayne Mayor John Rhaesa remembers when the annual event was just getting off the ground. He's quite proud of the series' growth.
"It's something that I think the community as a whole looks forward to, and it's the highlight of the summer for many people," says Rhaesa, who has been a Wayne Rotarian for over 10 years. "We try to gradually raise the level of it each year and try to provide a quality show for the residents."
Additionally, Wayne Rotary has another musical event coming down the pike: On Saturday, September 24, the club will host a fundraiser entitled "Dueling Pianos" at Wayne HYPE. (Those interested in attending are encouraged to search "Wayne Michigan Rotary" on Facebook for more information.)
Looking beyond September, the future of Wayne Rotary is bright.
Bevard is hopeful that the club will see a boost in membership in the years to come, and VanStipdonk is similarly optimistic.
Says VanStipdonk, "What has happened is that in the past, members were primarily professional people, now we've had a nice influx of civic-minded people as well—and more women." Adds Bevard, "The best thing about Rotary is giving back to the community and trying to help others through the efforts of the Rotary. And it makes people feel good inside–and I know that when you help others, it helps you, too."
This profile of the Wayne Rotary is dedicated to the memory of David Allan Carpenter, Sr. Carpenter, a husband, father, and longtime Wayne Rotarian, recently passed away at the age of 73. Carpenter's many contributions include having served all the club offices in Wayne Rotary before moving on to serve District 6400 as both assistant governor and district governor. His unyielding commitment to the Wayne Rotary will not be forgotten.