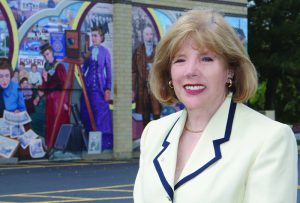 By Carolyn Marnon – If you attend events in Wayne or belong to any of the community groups in Wayne, more than likely you have run into Pat Rice. Her bright smile and welcoming way are noticed. It doesn't matter that she is usually wearing a t-shirt of some sort that promotes Wayne…like the Wayne Rotary shirt that declares "Rotarian at Work," her Wayne Main Street Volunteer shirt, or her "Let's Put Wayne on the Map" Google shirt. She is a true champion of Wayne.
Born in Detroit over 70 years ago, Patricia Rice was adopted when she was 3 days old by Willard and Rosemary Sawyer of Cass Lake, Michigan. She lived in Cass Lake until kindergarten when she started attending Berkley Elementary in Berkley. She attended schools in Berkley through high school except for one year when she attended Our Lady of Mercy High School in Detroit. She spent two years at Schoolcraft College before going on to graduate from the Real Estate Institute and became a Certified Residential Specialist. Pat never had the urge to locate her birth parents. She says Willard and Rosemary, her parents, "gave up their life to raise me." Pat's mom is now 103 years old, "but I'm adopted. I don't get any of those genes," she laughs.
Pat has been a professional realtor for 31 years, having worked with Century 21 and currently with RE/MAX Classic. She was in the top 1% of realtors in Wayne County in 2016 and the top 5% of realtors in Southeastern Michigan in 2016.
Why did she make a career in real estate? While working in a doctor's office, a friend told Pat that she'd be good at real estate. Pat decided to give it a try and became a licensed realtor. On her first day on the job, she sold a house. She said, "I'm in if it's this easy!" It's not always easy, but that hasn't deterred Pat from being a successful realtor helping others find and/or sell homes.
Pat was married for 39 years to Richard (Dick) Rice. He died in 2003. While he was in the Air Force, they lived in Aviano, Italy for several years in the 1960s. Before moving to Wayne, they had also lived in Royal Oak and Romulus. Pat has 3 children Richard (Dick) of Dearborn, Jeffrey (Jeff) of Milford and Krysten of Canton, along with 3 grandchildren-Eden (age 14), Clayton (age 10) and Anthony (age 8). If the grandchildren are visiting her and she has homes to show or meetings to attend, she takes the grandchildren with her. "Grandma, everyone knows you," they say.
Her first volunteer gig was back in the late 70s/early 80s. She became a volunteer Sunday School preschool teacher at St. Aloysius in Romulus. She says she had no teaching background, but a fellow Wayne resident (and former Diamond of the Community also), Lois Van Stipdonk had been the teacher and encouraged Pat to take over.
Eventually, Lois got Pat to join the Wayne Rotary. "I don't think she (Lois) realizes that she was the spearhead of my volunteering."
Although gardening is one of her hobbies and she has a beautiful, well-manicured lawn and lots of colorful plants that make her house stand out in her subdivision, Pat says she has no time to join the Wayne Garden Club. She says she did win a garden award for her yard when she lived in Romulus. Her other hobbies include sewing, reading fiction, walking by herself and biking. She's been a member of the Wayne Book Club Divas for 16 years; the group meets once a month.
Pat is able to dedicate so much time to volunteering because her career as a real estate professional has her working mostly in the evenings and on weekends. She sits on several City of Wayne committees: the Planning Commission since 2005 and the Local Office Compensation Board since 2005. She also did time on the Cemetery Board from 2003-2014.
Pat has been the President of the Glenwood Heights Homeowners Association/Subdivision for 21 years. She says she meets great people and believes that God gives you talents and makes things happen so you are able to share your talents.
The Wayne Rotary has a history of people that make it functional, serving the community and the world. Pat says Rotary International is instrumental in raising the money needed to eradicate polio. Bill Gates has been instrumental also by matching the money raised. She says eradication is almost here. Pat could be seen this summer at the Concerts in the Park each week selling 50/50 tickets.
Pat was one of the founding members of the Wayne Ripple Effect, now known as Wayne Main Street. Sherry Brindley, who formerly worked for the Wayne Chamber of Commerce, got a group of people together at the former Rex's (McDonald's is now located in that spot) to learn about the Michigan Main Street program and how Wayne could benefit from becoming a Main Street Community. Pat says she was a witness to the change that Main Street can make in a city because she had seen how it had changed Howell, Michigan. She told the group gathered about how ordinary people were making change happen. It took the group 2-3 years of hard work to put all the systems in place and gather all the paperwork and documentation that MMS required to be considered for the program. The group travelled to Lansing, MI to make their presentation and lo and behold, they became Wayne Main Street. Pat is currently a WMS board member and the Business Empowerment Chairperson. She has also served terms as Past President and as Vice-President.
There is "more to life than sitting at home watching television." Pat also serves as Eucharistic Minister at St. Mary Parish.
Pat's favorite thing about being a volunteer is being an organizer. She likes to know who is responsible for doing what. It takes someone to be well-organized to volunteer, enjoy her hobbies and still continue to work into her 70s. I don't think Pat has any plans to slow down anytime soon.
Sponsored by Wayne Dairy Queen and DQ's owners, Michael and Jenn Petrou, the annual Diamond of the Community award honors a senior in the community who has a passion for actively volunteering in the community. The Wayne Commission on Aging will host the 23rd Annual Diamond of the Community Recognition Dinner to honor Mrs. Pat Rice.
This year's event will be at HYPE Recreation Center (4635 Howe Rd) on Tuesday, October 3, at 6:00 p.m. Tickets are $15 per person and are available at Wayne Senior Services Office-HYPE Recreation Center and at City Hall. Tickets must be purchased by September 19.